Game of Thrones' Emilia Clarke To Front James Franco's Garden Of Last Days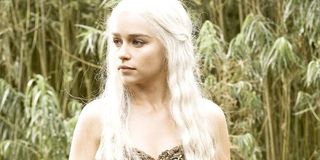 Enchanting English ingénue Emilia Clarke is beginning to reap the benefits of being on an insanely popular and widely praised television sensation. The Game of Thrones star, who recently wrapped her run on Broadway as Holly Golightly in Breakfast at Tiffany's, has just signed on to actor/everything James Franco's latest directorial project The Garden of Last Days.
The film, which boasts Gerard Butler as producer, will be a low-budget adaptation of Andre Dubus III's novel of the same name. Like the novel the movie will weave together three storylines of some desperately flawed people whose lives intersect one night in a Florida strip joint called Puma Club for Men. THR reports Clarke will front the film as April, a stripper who brings her 3-year-old daughter to work with her on this fateful night. At this time there's no word on who will take on the male leads, Bassam, a foreign client who likes to make it rain, and AJ, a rage-filled drunk who gets tossed out of the club for bad behavior.
I've never read The Garden of Last Days, but based on the Dubus' previous adapted work, the harrowing House of Sand and Fog, I expect this pic will wallow in some traumatic drama. And with Franco at the helm, we expect The Garden of Last Days will prove sexually explicit. After all, Franco has produced the fetish doc Kink, co-directed the drama Interior. Leather. Bar., was an outspoken supporter of the banned I Want Your Love, played Hugh Hefner in Lovelace, and so on.
The Garden of Last Days is expected to shoot this July.
Staff writer at CinemaBlend.
Your Daily Blend of Entertainment News
Thank you for signing up to CinemaBlend. You will receive a verification email shortly.
There was a problem. Please refresh the page and try again.