Garret Hedlund, Amy Adams And More Sign On For Lullaby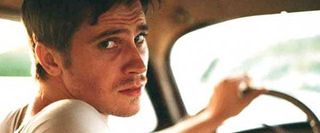 Andrew Levitas is a man of many talents. A heralded painter and sculptor, he's also dabbled in TV acting and now is preparing to direct his first feature, Lullaby. The ensemble drama also marks Levitas's first produced screenplay, but despite his newcomer status to this field the modern Renaissance Man has already secured an impressive cast.
Deadline reveals Garrett Hedlund, Amy Adams, Richard Jenkins, Jessica Brown Findlay, Jennifer Hudson and Terrence Howard have already signed on to star in Lullaby. Hedlund, who has been scoring an array of high-profile projects including the Cannes selection On the Road and the upcoming Coen Bros' drama Inside Llewyn Davis, will lead the film, which will follow his character's reunion with his estranged father following news that the latter is on his death bed. Jenkins will play the patriarch who has elected to go off of life support, and will likely die in the next 48 hours. At this point little else is known about the film's plot or how the rest of the cast factors in, but with so many heavy-hitters in its ranks, Lullaby is looking promising.
Hedlund's a leading man on the rise, while Jenkins is a character actor with a remarkable range who is utterly beloved by critics. Of course, Amy Adams is always an asset, carrying with the dizzying title "three-time Academy Award nominee." Findlay is one to watch in the wake of becoming a fan favorite on the phenomenon that is Downton Abbey. Howard is sure to bring intensity to the proceedings, and hopefully the feature's musical title will mean Oscar-winner Jennifer Hudson Dreamgirls, will lend not only her acting abilities to Lullaby but also her incredible song stylings.
Ananta Productions and Avenue Pictures are producing the feature, which is slated to begin shooting in New York in June.
Staff writer at CinemaBlend.