Garrett Hedlund Shows Off His Big Disk In This Tron: Legacy Banner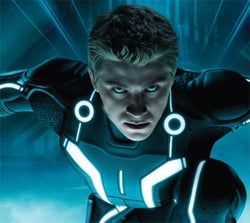 With Inception hitting theaters tomorrow at midnight, the coveted position of "most anticipated upcoming film" will be up for grabs. There are a few contenders left this year vying for the position, Harry Potter, Scott Pilgrim, Piranha 3D, just to name a few, but for most of us who grew up on early Disney adventures, our most boner-inspiring film of the last half of 2010 is definitely Tron: Legacy.
Production has been trudging along for what feels like an unreasonably long time, but Disney has kept us interested by continually releasing images from the film that send the 8-year-old inside of all of us into uncontrollable fits of "OMG THAT'S AWESOME!!", Continuing the pattern is the newest banner released over at IGN. Tron: Legacy star Garrett Hedlund crouches in anticipation as he prepares to huck his glowing light disk at some unfortunate program who is surely going to get messed up by it. Too rad.
The film is still five months from release but with a heavy presence at SDCC next week we can be sure to expect A LOT of new information and clips coming our way very very soon. Here's the image to sate your nerd lust.
Your Daily Blend of Entertainment News