Gears Of War Becomes A Movie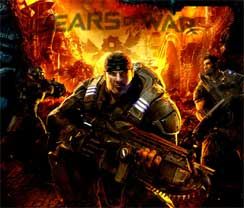 While Halo languishes in development hell, lesser videogame properties are being snatched up and shoved into production as fast as the studio system can get them. The latest is Gears of War which The Hollywood Reporter says has been acquired by New Line Cinema. Ok sure Gears is an award winning videogame, but it's still no Halo.
They've hired Stuart Beattie to adapt it into a script. Beattie's a pretty well traveled writer, having worked on the scripts for such films as Collateral, Derailed, and even Pirates of the Caribbean. New Line isn't skimping and Beattie sounds like he's determined to be loyal to the essence of the franchise. He's already worked with the game's lead designer Cliff Bleszinski on his treatment for the film. Beattie even sounds like he's a fan. He first heard about the job when a New Line exec messaged him on his Xbox Live account and asked him, "If we bought the game you're playing right now, would you write it?" It definitely sounds like they've got the right man for the job.
For you noobs out there, Gears of War is a third person shooter on the Xbox 360. The game follows a squad of soldiers fighting to save the residents of a planet named Sera from a subterranean enemy called The Locust Horde.
So far, Hollywood hasn't had much luck adapting shooters like this into feature films. Actually, they haven't had much luck adapting any videogame into a movie. Resident Evil is the only really financially successful videogame to film adaptation and none of them have been winners with critics. Unless they bring in some A-list director to pair with Beattie's script, it'll be a shock if New Line's Gears of War movie fares any better.
Your Daily Blend of Entertainment News
Thank you for signing up to CinemaBlend. You will receive a verification email shortly.
There was a problem. Please refresh the page and try again.