The Genie In Aladdin Was Almost A Black Hipster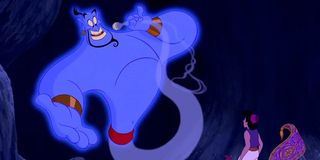 It's pretty safe to say that when someone mentions Disney's Aladdin, the image that comes into the minds of most people is not Scott Weinger's vocal performance as the Arabian street urchin-turned fake prince. More likely, the cerulean-covered wish-granting prankster, Genie who was legendarily voiced by the late Robin Williams will jog the memory. If you have ever wondered exactly what inspired the over-the-top entity in the first place, then wonder no longer. Composer, Alan Menken, who had a hand in Disney signatures like The Little Mermaid, Beauty and the Beast, The Hunchback of Notre Dame, Hercules and yes, germane to the headline, Aladdin, has revealed that the original approach to Genie was as a jazzy black hipster. (One who was granting trios of wishes to random lamp-lifters before it got all mainstream.)
Menken recently sat down with Entertainment Weekly to promote his latest musical composition on the ABC limited-run fairy tale, musical satire, Galavant. While discussing a number of behind-the-scenes stories to his signature Disney compositions, a notable factoid would come up regarding the subject of Aladdin. On the approach to Genie's memorable number, "Friend Like Me," Menken remarks:
It's a fascinating revelation and the theme does make sense, since Genie is portrayed as this mystical man with magnificent powers and connection to play things cool and smooth while hooking up his friends with spectacular wishes. While it doesn't seem like a mandate set in stone, the idea of a "black hipster" certainly worked in this regard. The Disney approach, almost always based in hyperbole (and freaky big eyes), would fit like glove when Robin Williams was brought on board and brought a chaotic zaniness that could not have been conceived without his comic genius.
The evocation of Fats Waller, the hugely popular Depression-era jazz singer and pianist encapsulates perfectly how the muse of popular culture history gets sent through the Disney machine, producing generational-inspiring gold. Never is it more abundantly clear than when viewing Waller performing smooth upbeat numbers like signature hit, "Honeysuckle Rose."
Menken was able help bring musical recognition to many beloved Disney characters. Whatever the inspiration beyond the character Genie may be, the outcome was absolute magic.
Your Daily Blend of Entertainment News