Robin Williams Could Be Completely Cut From His Final Film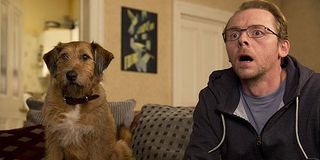 With the untimely death of Robin Williams last week, many movie lovers and admirers rushed to re-watch his most beloved works, from Hook and Aladdin to Good Will Hunting and Dead Poets Society. We also took some solace in that three more films of his would hit posthumously. However, Simon Pegg is now warning us that number might be down to two.
The UK Telegraph reports Robin Williams may not have completed his voice work for the science-fiction comedy Absolutely Anything. The late actor's co-star Simon Pegg warns that if that is the case, Williams could be cut from the film completely. Pegg told Telegraph at the London premiere of his latest film Hector and The Search For Happiness:
For now, Lionsgate UK, the film's British distributors, are not commenting on this matter. Officially, Absolutely Anything is in post-production. Since William's role was relegated to voice work, it's unclear how far along his contribution to the film is. However, there are voice actors who have made a job at mimicking the signature tone of this beloved comedian. For instance, Dan Castellaneta, best-known as the voice of Homer Simpson, took on the voice of Aladdin's Genie for the 1994 television series spin-off as well as for the straight-to-video sequel The Return of Jafar. So perhaps Castellaneta or someone of his ilk could be brought in to help keep the bulk of Williams' work in the picture.
You can see how the two compare in this video that includes clips from the cartoon series as well as Aladdin, Return of Jafar and The King of Thieves.
We first got word on Absolutely Anything in the fall of 2009, when it was announced as a Terry Jones feature that would reunite Monty Python. Williams was connected to the project in early 2012, set to play a talking dog and possibly a pompous Frenchman. If the latter proves true, Absolutely Anything could mark Williams' last screen appearance. But it seems unlikely Pegg wouldn't know about such a casting choice when he is the protagonist of the film.
Absolutely Anything stars Pegg as a teacher whose whole world changes when he gets magical powers. Presumably, he uses them in part to allow his dog to speak. The surviving Monty Python members (John Cleese, Terry Gilliam, Terry Jones, Eric Idle and Michael Palin) will share the screen as extraterrestrials.
Absolutely Anything is expected to open in 2015. We'll keep you posted on whether or not Robin Williams will be included in its final cut.
Your Daily Blend of Entertainment News
Staff writer at CinemaBlend.