George Clooney Wants Jean Dujardin To Be One Of His Monuments Men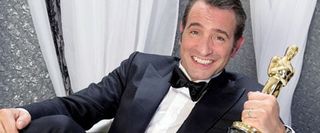 Though earlier this year The Artist's Jean Dujardin beat out George Clooney for the Academy Award for Best Actor, it appears there are no hard feelings between them as The Descendants' headliner is currently looking to collaborate with the French film star in his upcoming war drama The Monuments Men.
Adapted from Robert M Edsel's non-fiction book The Monuments Men: Allied Heroes, Nazi Thieves and the Greatest Treasure Hunt in History, the movie will center on the amazing true story of the titular group, who were men and women charged with hunting down the cultural treasures and pieces of art that Adolf Hitler and his Nazi forces were stealing and hoarding during their invasions in World War II. The book focused on the eleven-month span between D-Day and V-E Day, when Hitler's hostile art thieves were not only taking irreplaceable works of art, but also destroying those the Fuehrer declared "degenerate."
Clooney will not only write and produce with partner Grant Heslov, but also direct, and star as U.S. Army officer George Stout, who rediscovered tens of thousands of stolen artworks. The Wrap reveals he wants Dujardin for a supporting role. It's unknown what part Dujardin is being sought for, but Cate Blanchett is reportedly being courted for the role of art historian/French Resistance member Rose Valland, while Paul Giamatti is being eyed to play New York City ballet co-founder Lincoln Kirstein. However, with the film not set to shoot until the spring of 2013, the casting process has only just begun, so it's too soon to guess who might make it to the production.
Nonetheless, this sounds like a fantastic project. To begin with, Clooney showed a distinct skill for making history come alive with the remarkable Edward R. Murrow biopic Good Night, and Good Luck. The cast he's considering is, of course, top notch, but combining the dueling charisma of himself and Dujardin is devastatingly enticing. Finally, as the French actor has been steadily improving his English vocabulary since setting forth on the American leg of The Artist's press tour, he can probably handle the demands of an English-language movie by now. With their charm and powers combined, Clooney might at last snag his second Oscar win.
Your Daily Blend of Entertainment News
Staff writer at CinemaBlend.