George Nolfi Attached To Cuban Missile Crisis Drama One Minute To Midnight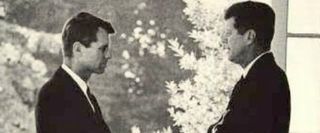 Coming off the success of last year's science-fiction film with hats starring Matt Damon and Emily Blunt, The Adjustment Bureau's George Nolfi is finally setting up his sophomore directing effort. For his next film, the writer-director behind the adaptation of Phillip K. Dick's "Adjustment Team" is turning to another era full of fedoras by heading into the Cold War, specifically the Cuban Missile Crisis.
According to THR, Nolfi is on board to direct as well as rewrite an adaptation of Michael Dobbs' 2008 non-fiction novel "One Minute to Midnight: Kennedy, Khrushchev and Castro on the Brink of Nuclear War." The title of course refers to the doomsday clock and just how close it came to BOOM! There have been plenty of books, films, and miniseries based on the two weeks in October, 1962 when the world was on the brink of nuclear war. Apparently the hour-by-hour account of the events sheds new light on all sides of the conflict between The United States and The Soviet Union (and Cuba).
Fox 2000 is producing One Minute to Midnight and, if nothing else, it gives audiences a chance to see yet another cinematic incarnation of John F. Kennedy. Personally, I'm a big fan of Bruce Greenwood's portrayal of the former President in Robert Donaldson's Thirteen Days, another film based on the Cuban Missile Crisis, but if Matt Damon was willing to return to work for Nolfi, he'd have a strong contender for the prize. You know he's got the accent in the bag.
As previously mentioned, Nolfi's only directing credit comes with Adjustment Bureau but he has a handful of credits as a screenwriter. He co-wrote The Bourne Ultimatum and also supervised the writing of Jee-Woon Kim's first English feature The Last Stand. It opens January 18, 2013. In the meantime, who would you like to see Nolfi bring in to be his JFK, Robert Kennedy, Nikita Khrushchev, Fidel Castro, and all the other major players?
Your Daily Blend of Entertainment News