Gerard Butler's London Has Fallen Just Got Moved To A Cinematic Wasteland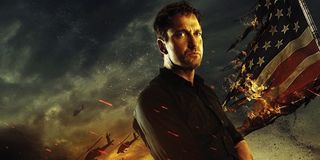 This is a most inauspicious sign for the Gerard Butler-fronted London Has Fallen. The impending sequel to the 2013, White House-centric actioner Olympus Has Fallen has been pushed from its fall release date to what is traditionally a dumping ground for cinematic garbage, a kind of post-apocalyptic wasteland of movies.
According to The Hollywood Reporter, Gramercy Pictures, the genre production wing of Focus Features, has moved London Has Fallen from its original October 2 release date to January 22, 2016.
After the rush of end-of-the-year awards contenders and big blockbusters—Star Wars: The Force Awakens opens this December, just in case you forgot—the first couple months of the year have historically been space where studios take out their trash. It's like college kids moving out and leaving furniture on the lawn. This is often a place where you find movies that underperformed, that had potential, or a big name attached in some capacity, but that, for whatever reason, didn't turn out as well as anticipated.
In recent days, however, this isn't always an automatic death sentence—like the college lawn, you occasionally find a gem. Last year, American Sniper opened wide in January and went on to be a huge success, something the Power Rangers movie took note of and hopes to emulate in 2017. Sniper was a bit of an unusual case, however, as its subject matter ignited the fervor of a specific set of the population who came out to see it in droves, but we'll wait and see if Power Rangers has the same impact.
Also, in an increasingly crowded blockbuster landscape, it's getting more and more difficult to find space to open a big movie. There are only so many weekends in a given year, and many of the prime locations are already claimed. On its original release date, London Has Fallen would have faced off against stiff competition in Ridley Scott's The Martian and Robert Zemeckis' The Walk. While it remains to be seen if either of those will be huge box office earners, both already have a good amount of buzz.
You also have to take into consideration that while it made money, Olympus Has Fallen didn't exactly set the world on fire, financially or critically. Reviews were mixed at best, striking more of a chord with fans of low-budget, DTV style action. It did make $161 million worldwide, $98 million domestically, but with a $70 million budget, plus marketing, and the tepid reception, a lot of people are still asking why it is getting a sequel at all. Then there was the early director drama.
All of this taken into account, it's not a huge surprise that London Has Fallen has been delayed. In its new slot it will likely capture fans of the original, be the biggest movie opening that week, and if reviews and marketing are solid, it could wind up a decent sized success.
In London Has Fallen Gerard Butler reprises his role of former Special Forces operator turned no-longer-disgraced Secret Service Agent Mike Banning. Set it, of all places, London, the British Prime Minister dies under suspicious circumstances, and when his funeral turns into a shooting gallery for those trying to assassinate world leaders, only Banning can save the day.
With at cast that includes Aaron Eckhart, Morgan Freeman, Melissa Leo, Angela Bassett, Robert Forster, and Jackie Earle Haley, London Has Fallen now opens January 22, 2016. Godspeed.
Your Daily Blend of Entertainment News
Thank you for signing up to CinemaBlend. You will receive a verification email shortly.
There was a problem. Please refresh the page and try again.