German Guy Makes Tom Cruise The President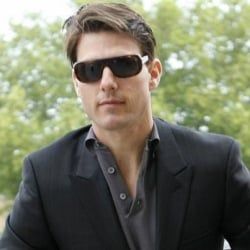 When The Lives of Others came out to universal critical acclaim in 2006, its director Florian Henckel von Donnersmarck was pretty much guaranteed to be the next big, hard-to-pronounce name in directing. And it's taken him a while, but von Donnersmarck seems finally ready for his follow-up-- The 28th Amendment, the presidential drama that will probably star Tom Cruise.
The movie's been bopping around Warner Bros. in development for a while now, with Tom Cruise interested all the while, and von Donnersmarck's interest seems likely to get Cruise to sign on for good. Alex Kurtzman and Roberto Orci, who wrote the project as a spec script in 1999, way before they earned their Star Trek and Cloverfield fame, are rewriting the script, according to Variety. The story is about the American President who discovers there's a secret society running the country, and they want him dead.
Cruise has every reason to commit to the project and get things moving, now that such a high-profile director has signed on and the talented screenwriters are reworking the story. Not that we're all necessarily ready to live in a world in which Tom Cruise is the President, but if that's what it takes to see him in more good movies like Valkyrie, we can probably take that one for the team.
Your Daily Blend of Entertainment News
Staff Writer at CinemaBlend