Giveaway: Harry Potter Collectors Box Set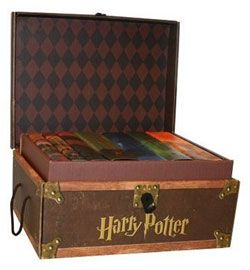 Harry Potter and the Half-Blood Prince will arrive in theaters tonight at midnight and you have, hopefully, already read the books. But you know you're going to read them again and when you do, why not read them in style?
We're giving away an amazing Harry Potter and the Half-Blood Prince gift set, courtesy of Scholasitic Books (opens in new tab). All seven Harry Potter books neatly housed in a collectible trunk-like box with sturdy handles and privacy lock. Bonus decorative stickers are included in each boxed set.
Harry Potter and the Half-Blood Prince will hit theaters this summer – the 6th film in the series. Why not catch the finale NOW by reading the page turning final installment of Harry Potter and the Deathly Hallows – released in paperback July 7th. It all comes down to this - a final face off between good and evil. You plan to pull out all the stops, but every time you solve one mystery, three more evolve.
To enter, follow these instructions:
Log in to your twitter account, follow us @cinemablend and then tweet this: "@cinemablend Enter me to win Harry Potter in a box!" One grand prize winner and 5 runners up (who will receive Deathly Hallows in paperback) will be selected at random. Entries will be accepted until 11:59 PM on Sunday, July 19th. The winners will then be contacted and the prize will be mailed to the addresses they provide.
Cinema Blend staff members are ineligible to enter. We can only ship to addresses in the continental U.S. so only entrants with a U.S. mailing address can participate. No PO Boxes please. No purchase necessary. Failure to comply with the rules will result in your disqualification from the contest.
Your Daily Blend of Entertainment News
Thank you for signing up to CinemaBlend. You will receive a verification email shortly.
There was a problem. Please refresh the page and try again.