The Godfather's Abe Vigoda Dead At 94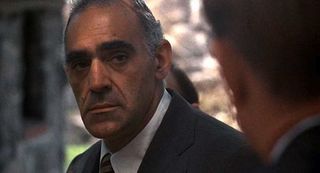 2016 is off to a rough start. Less than a month into the new year and we've already lost legends like David Bowie and Alan Rickman, not to mention that 2015 wrapped up with the death of Motorhead's Lemmy Kilmister. Also gone are super producer Run Run Shaw and soul singer Clarence Reid, better known as the foul-mouth grandfather of hip-hop, Blowfly. But the year is not done, as today arrives with the sad news that legendary character actor Abe Vigoda has passed away at the age of 94.
According to his daughter, Carol Vigoda Fuchs, Vigoda died Tuesday morning at his home in Woodland Park, New Jersey. In 1982, rumors of his death began to circulate due to an erroneous People Magazine article, and later a website was even created to track whether or not he was alive. The actor fully embraced this to maintain career momentum, and he frequently appeared on late-night talk shows to play this fact for laughs. Sadly, however, this time the reports are real, as he simply passed away from old age, Fuchs noting that "this man was never sick."
Born in 1921 in New York City, Abe Vigoda attended the Theater School of Dramatic Arts at Carnegie Hall. Though he had a long, illustrious career that reached all the way back to 1949, he will largely be remembered for two key roles. In 1972, Francis Ford Coppola cast him in the Oscar-winning gangster saga The Godfather, where he played the well-connected gangster Sal Tessio, gunning for power and Michael Corleone. Vigoda went on to reprise the role two years later in The Godfather: Part 2, which, incidentally, won even more Academy Awards.
1975 was the year that we first met Abe Vigoda's other most memorable character, the world-weary New York City detective, Sergeant Philip K. Fish on the ABC sitcom Barney Miller. This was the role that would win Vigoda his most individual acclaim, as he earned Emmy nominations for the role in three straight years.
He appeared in 63 episodes of Barney Miller before ultimately getting his own spinoff a few years later. The eponymous Fish saw his gruff, grumpy, hemorrhoid-stricken New York cop, and his onscreen wife Bernice (Florence Stanley), take in a motley group of foster kids. The series ran for 35 episodes before ultimately being cancelled.
Outside of his most notable roles, Abe Vigoda continued to act until very late into his life. He appeared everything from Joe Versus the Volcano and Look Who's Talking, to soap opera Santa Barbara, a live production of Arsenic and Old Lace, and countless other TV, movie, and stage roles. He even lent his signature gravelly voice to the animated Batman: Mask of the Phantasm. In 2010, he appeared in a Super Bowl add with Betty White, which lampooned their advanced age.
Vigoda was married twice in his life, though his most recent wife, Beatrice Schy passed away in 1992. He is survived by his daughter, three grandchildren—Jamie, Paul, and Steven—and a great grandson.
Your Daily Blend of Entertainment News
Thank you for signing up to CinemaBlend. You will receive a verification email shortly.
There was a problem. Please refresh the page and try again.