Why Al Pacino Still Thinks Michael Corleone Was His Most Difficult Role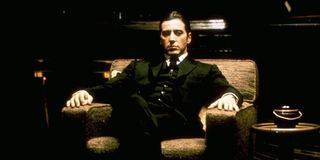 Al Pacino opened up about one of his most career defining roles. The legendary actor confesses that he still considers playing Michael Corleone, in The Godfather, his most difficult role.
In a recent interview, celebrated actor Al Pacino, who is promoting his newest project An Experience With Al Pacino, got personal with The Guardian. The Academy Award winning Best Actor touched on a wide range of subjects from family to his career and everything in between, revelations of an actor who has truly lived. Perhaps the most interesting career related revelation, however, was the actor's comments about playing Michael Corleone, particularly of note, how he almost got fired from the part. He had this to say:
Francis Ford Coppola's Academy Award winning film, The Godfather, was Pacino's big break into Hollywood, although it was indeed his third film. The critically acclaimed crime drama, which revolutionized movie-making in the gangster genre, was based on the Mario Puzo novel of the same name. Pacino played Michael Corleone, the youngest son of Mafia Don Vito Corleone, who was poised to take over the family business after his older brother, Santino "Sonny" Corleone, is killed and his father is attacked.
The character of Michael Corleone, was a pivotal character in the Corleone family and in the film, which is probably why many big name actors at the time, like Jack Nicholson, Robert Redford, Warren Beatty and Robert De Niro, all tried out for the role. Pacino beat out some serious Hollywood heavyweights for the role, likely because Coppola was impressed with the Pacino's performance in The Panic in Needle Park, where he played a heroin addict. It was clear to Coppola that the young Pacino could emote and he fought hard to keep him on the project. However, the Scarface actor got the last word. Critics and audiences alike praised Pacino for his performance as Michael Corleone and the actor even scored an Academy Award nomination for Best Supporting Actor.
Though Pacino has claimed Michael Corleone as his most difficult role ever played, among a lengthy resume of intense and developed characters, the actor undoubtedly undertook the role with such strength that it will be remembered for generations to come.
Your Daily Blend of Entertainment News