A Good Day To Die Hard's Jai Courtney Takes Divergent Role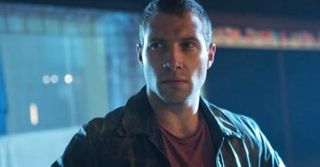 Shailene Woodley is currently at work as one of just many huge names added to the next installment of a huge franchise, playing dream girl Mary Jane opposite Andrew Garfield's Peter Parker in The Amazing Spider-Man. From there, though, she'll move on to leading a franchise of her own-- and now has a veteran from another, hugely different franchise on board to keep her company.
Fresh off his turn as John McClane's son Jack in A Good Day to DIe Hard, Jai Courtney will be joining Woodley in Divergent, an adaptation of the popular young adult novel series. According to Variety Courtney will play Eric, "a leader of the Dauntless faction." If you're like me and aren't familiar with the books, here are a few details to help us out. Divergent takes place in the future after society has collapsed, and everyone has divided themselves into factions based on what they believed will save the future (Amity is the people who support peace, Dauntless is for people who think everyone needs to be braver, etc.) Woodley's character Beatrice is a teenager who finds herself struggling to fit in with her family, which belongs to the Abnegation family, believing in selflessness.
When it comes time for Beatrice to choose her new faction she goes with Dauntless, which is where Courtney comes in, playing Dauntless faction leader Eric. It's unclear how big a role he plays-- he's not mentioned on the Wikipedia page, is what I'm saying-- and since he's not described as a love interest, it seems safe to imagine him in a small but forceful supporting role. Courtney joins a cast that already includes Kate Winslet and the newly added trio of Zoe Kravitz, Maggie Q and Ansel Elgort. They also still haven't been able to find the proper love interest, but Variety says that question should be answered shortly. Which hunky young man will it be, and how will he possibly live up to Woodley's current on-screen fling with Andrew Garfield? We'll keep you posted.
Staff Writer at CinemaBlend
Your Daily Blend of Entertainment News
Thank you for signing up to CinemaBlend. You will receive a verification email shortly.
There was a problem. Please refresh the page and try again.