Divergent Movie Adds Maggie Q, Zoe Kravitz And Ansel Elgort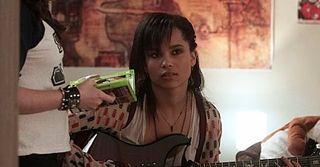 The cast for the feature adaptation of Veronica Roth's young adult dystopian novel Divergent has added three more to its roster. While there's still no confirmation on who will play the male lead, the film has added Maggie Q, Zoe Kravitz and Ansel Elgort for supporting roles. They join previously cast Shailene Woodley and Kate Winslet in the film, which is being helmed by Limitless' Neil Burger.
Divergent will star Woodley as Tris, a teen living in what's left of Chicago, among a society that's broken up into five factions, which determine a person's lifestyle. When she comes of age, she must decide if she wants to stay in her family's faction, the selfless and generous Abnegation, or choose another faction (the scholarly Erudite, the honest Candor, the peaceful Amity or the brave Dauntless). The story begins with Tris making her choice, after which she must undergo training in order to earn her place among her people.
THR posted the latest bit of casting news, stating that Maggie Q (Nikita, Live Free or Die Hard) is set to play Tori, a tattoo artist who's also involved in testing Tris to determine which faction she's most suited for. She proves to be especially helpful to Tris later in the story, but I'll leave out the details there for those who haven't read the book.
Newcomer Ansel Elgort has signed on to play the role of Tris' brother Caleb, who chooses a different faction from his sister and family. In the book, he's a little bit older than his sister, but THR mentions that he's her twin, so there might be a slight change from book to movie there. Elgort's only listed credit is the role of Tommy Ross in the new adaptation of Stephen King's Carrie. So we should expect to see him dancing with Chloe Grace Moretz in the remake, when it arrives this fall.
Finally, Zoe Kravitz (daughter to musician/actor Lenny Kravitz) has been cast to play Christina, Tris' candid new friend and fellow initiate. Zoe's recent credits include a recurring role in Californication a couple years back, and the part of Angel Salvadore in X-Men: First Class. We'll also see her in M. Night Shyamalan's After Earth this summer.
So that adds three more to the cast, and hopefully we'll hear word of some of the other initiates, as well as Four, Tris' instructor and Eric, one of the leaders of Tris' faction. Back in January, we learned that Kate Winslet was in talks for an unspecified role (possibly Tris' mother?). At that time, word was that Summit was considering aiming a bit older for the male lead role of Four, after not finding what they were looking for from the latest readings. Previously rumored to be up for the part were Alex Pettyfer, Lucas Till and Jeremy Irvine, but it sounds like they're out of the running and we haven't seen any updates on that front since then.
Divergent (opens in new tab) is the first book in a planned trilogy. The second book Insurgent (opens in new tab) arrived last fall, and the third book (yet to be titled but available for pre-order (opens in new tab)) is set to be published this October.
Kelly joined CinemaBlend as a freelance TV news writer in 2006 and went on to serve as the site's TV Editor before moving over to other roles on the site. At present, she's an Assistant Managing Editor who spends much of her time brainstorming and editing feature content on the site.
Your Daily Blend of Entertainment News
Thank you for signing up to CinemaBlend. You will receive a verification email shortly.
There was a problem. Please refresh the page and try again.