A Good Old Fashioned Orgy Trailer Promises Naked Group Fun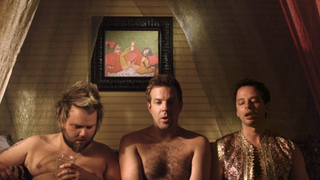 (Image credit: Samuel Goldwyn Films)
The first trailer for the accurately titled comedy A Good Old Fashioned Orgy has arrived. Yep, it really is about an orgy.
The movie stars a stacked ensemble cast including the likes of Jason Sudeikis, Will Forte, Lake Bell, Lucy Punch, Martin Starr, Tyler Labine, Don Johnson, and Leslie Bibb in the story of a group of friends who decide to memorialize the end of their party days by doing the biggest thing imaginable: They're throwing an orgy.
Check out the Good Old Fashioned Orgy trailer below or in HD on Facebook.
Here's the thing about this trailer. It's not exactly funny. Normally that's a must for a comedy, but maybe not this one. It seems more intent on setting up the premise than spoiling any of the jokes, and it does that brilliantly. It's easy to see where the laughs might be, but it isn't spoiling any of them. There's really nothing worse than walking into a comedy only to discover you've already seen the funniest scenes in the trailer. That's not an issue here, and the teaser's loaded with hilarity potential. Besides, you should root for Tyler Labine. If you watched Reaper you know he's ridiculously funny.
The world needs a good party movie, and this may be it. Look for Orgy in theaters September 2nd. For more on the film visit its page in our Blend Film Database.
Your Daily Blend of Entertainment News