Google Claims It Can Predict A Movie's Box Office With 94% Accuracy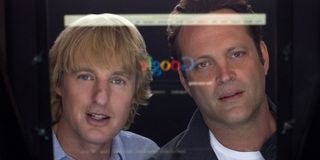 Ironically, the week that The Internship comes out, a study breaks saying that Google has cracked a code that can measure analytics and predict a film's opening-weekend box office number with 94% accuracy. The follow up question asked by THR, which has the story, should have been, "Why didn't you warn Will Smith about After Earth?"
Google has revealed its study, "Quantifying Movie Magic with Google Search," on a blog post. In the piece the tech company says that they begin studying data four weeks out from a release date, measuring search data regarding the film's title, trailers, marketing assets, franchise popularity and the season in which the movie is opening. They use all of this to come up with a ballpark opening-weekend figure. Said Andrea Chen, Google's principal industry analyst for media and entertainment,
Google says that it reached the basics of this formula by analyzing the top 99 movies of 2012. They say that they do not plan to sell the information they gather on upcoming movies, but they are not opposed to sharing the information with studios if it can help them better market their products. If you believe that Google won't try to make money off of this study and the results it can generate, you are crazy.
Box office predictions aren't science, which is why most who play the game are right only half of the time. But Google, having its "finger" on the pulse of the Internet, certainly seems like it would have enough data in its system to make feasible guesses on the success or failure rate of a given movie. I really want to know what their data tells them about The Internship, but we'll know soon enough whether audiences think it's a two-hour commercial for the tech giant, or a welcome reunion for Owen Wilson and Vince Vaughn.
Movie junkie. Infatuated with comic-book films. ReelBlend cohost. Resident dad. Extroverted introvert. Wants to see the Snyder Cut. Managing Director at CinemaBlend.