The Greasy Strangler Has The Grossest, Most NSFW Trailer You'll See This Year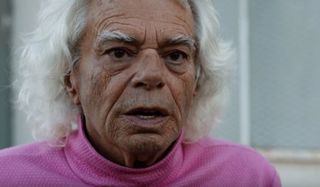 I've seen quite a bit during my time writing for Cinema Blend. From TV series to feature length films, I've become callous to content that tries to push the envelope – or so I thought. Ladies and gentlemen, the trailer for The Greasy Strangler just hit the Internet, and it's the grossest, weirdest, and most absurd movie trailer you will see all year. That's something I can promise you. Check out the NSFW trailer below to see for yourself.
I warned about that trailer, didn't I? Jim Hosking's The Greasy Strangler revolves around a father and son who both fall for the same woman during a Disco Walking tour in Los Angeles. As they begin competing for the attention of their beloved, a maniac dubbed "The Greasy Strangler" starts to stalk the streets and brutally murder innocents at night. When I say "greasy," I mean a legitimately grease covered monster who chokes the life out of people until their eyes burst from their heads. The trailer is crass, it's horrific, it's horrendous, and it promises one of the most unique cinematic experiences in recent memory.
The Greasy Strangler seems to thrive on an overwhelming use of crass anti-humor to generate its laughs. Not playing to the traditional mainstream comedy crowd, it's abundantly clear that the intended audience for this film is the type of person who also thoroughly enjoys shows like Tim and Eric. Like so many properties that have debuted on networks like Adult Swim over the years, The Greasy Strangler won't be for everyone. However, those who enjoy it will likely love it almost instantly.
Here's the thing that makes The Greasy Strangler even weirder than one would have possibly imagined: critics seem to love it. The film has screened at numerous film festivals (seriously, even Sundance) and gone through numerous, well-respected film critics, and overall it seems to have performed more than admirably with even the sternest members of the film community. It appears that beneath all of the crass weirdness, there is an underlying heart and catharsis to The Greasy Strangler that elevates it beyond the absurdist comedy the trailer would want you to believe it is. Don't believe me? The film currently maintains a 90% Fresh rating on Rotten Tomatoes.
We will keep you posted regarding any and all details related to this absurd piece of cinema they become available to us.
Your Daily Blend of Entertainment News
Originally from Connecticut, Conner grew up in San Diego and graduated from Chapman University in 2014. He now lives in Los Angeles working in and around the entertainment industry and can mostly be found binging horror movies and chugging coffee.