Great Debate: Does 50/50 Actually Have A Shot At Winning Oscars?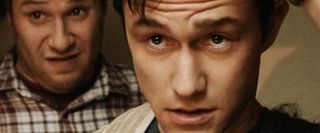 50/50 opens this weekend, and if you've read Eric Eisenberg's glowing review, you know he's fully in the tank for the comedy-drama starring Joseph Gordon-Levitt and Seth Rogen. Now normally when you get a movie released in the fall about a main character who gets cancer, and when the critics falling all over themselves to praise it, you get oodles and oodles of Oscar buzz. But 50/50, a drama with heavy doses of comedy related to drugs, girls and other tawdry things that interest 20-something males, isn't exactly the kind of movie that automatically gets invited to the big awards show.
Or is it? Eric and Katey, the author of our weekly Oscar Eye column, realized they had very different ideas about 50/50's Oscar chances, so they decided to hash it out in the only logical way imaginable: A Great Debate. Check out the conversation below and let us know your thoughts on 50/50's chances at awards glory in the comments.
KATEY: So Eric, I'm thinking of this like an intervention. Except instead of saving you from a drinking problem, I'm crushing your idealistic dreams about the Oscar hopes for 50/50. Before we start I want you to know that everyone in this chat window cares about you very much.
ERIC: I'm sure you do, but I still have faith. I honestly think that the movie has a solid chance for Best Supporting Actress and Best Original Screenplay. Why do you think it doesn't?
KATEY: When you say Best Supporting Actress, which actress are you referring to?
ERIC: Anjelica Huston, who plays Joseph Gordon-Levitt's character's mom for those that don't know.
KATEY: Though it's worth noting that there's a lot of great supporting actress performances in it, and in Perfect World Oscars Anna Kendrick and Bryce Dallas Howard are also up for consideration. But we're here because we're not talking about the Perfect World Oscars. We're talking about the Oscars that are handed out by the Academy, a body of people famously averse to giving awards to young people, comedies, and movies that are remotely hip. 50/50 features all of those things, and while it's going to be beloved by a lot of people our age, and will certainly get a campaign from its distributor Summit, it is on a base level not an Academy movie.
ERIC: In the case of Huston, I actually think that's why it works. Huston is a veteran and largely plays a dramatic role.
KATEY: Well, hang on a second, lets talk about the movie itself first. 50/50 is among your favorite movies of the year, but do you agree that it's probably not going to get a Best Picture nomination?
ERIC: With a tear in my eye I'm going to say yes, but that's really only because of the new rules. If this year was like the past two years, where there was a guaranteed 10 nominations, then it would have been included. Did you expect District 9 to get nominated for Best Picture?
KATEY: No, I see your point-- but District 9 works much more closely with the classic epic/serious drama side of filmmaking, while 50/50 is a loose and genial comedy with the trappings of drama that still features Seth Rogen smoking a lot of pot. Seth Rogen is an Academy member, but not exactly representative of them. But that brings me to what you said about Original Screenplay. That's the one part of this where I think you could be right
ERIC: And I think I'm absolutely right.
KATEY: Are you predicting it for a nomination there, or a straight-up win?
ERIC: I think it's still too early to call winners, but I have absolute faith that Will Reiser will be an Oscar nominee come January. As you mentioned, the biggest thing that's going to prevent recognition from the academy is vulgarity. But if there's one category where they tend to be a little more loose, it's in the writing.
KATEY: Yes, you're absolutely right about that. This is the category that got Charlie Kaufman an Oscar.
ERIC: And Quentin Tarantino.
KATEY: But you've also got to acknowledge the competition they're up against. There's original screenplays in there from past winners like Woody Allen (Midnight in Paris), Dustin Lance Black (J Edgar) and Diablo Cody (Young Adult). Plus other young-skewing indies that might be more "serious" for Academy tastes, like Martha Marcy May Marlene or Beginners. Best Original Screenplay is definitely where you can see nominations for a film that gets ignored elsewhere, but knowing that it doesn't really stand a chance for Best Picture or Best Director, it'll be that much harder to get it that kind of attention.
What this really depends on, and why it's kind of crazy we're having this debate so early, is box office. If 50/50 becomes some crazy-sized hit, take everything I'm saying with a huge grain of salt.
ERIC: Let's talk about Anjelica Huston.
KATEY: She does a great job in the movie, for sure, but it's a small part. And in ensemble movies like this, small roles like that can have a hard time standing out, especially when there are two other supporting actresses in the mix.
ERIC: If there's a name to throw out in this situation, it's Judi Dench in Shakespeare in Love. It may be a small role for Huston, but it's a powerful one.
KATEY: Yes, but Shakespeare In Love won Best Picture. You're talking about entirely different levels of scrutiny.
ERIC: I do understand that The Help presents a problem in the category, but there's also the possibility that they start to cancel each other out.
KATEY: The Help is part of the problem, but I really just think it's too small of a role in a movie that isn't baity enough. It's not fair, but the Oscars never have been.
ERIC: This is sadly true.
KATEY: So Eric, to wrap things up. When Oscar nominations come out in January. How will you be bracing for the impact of 50/50 not getting nominated for everything? Not to mention that your other favorite movie of the year, Drive, will probably be shut out entirely.
ERIC: Oh please for the love of God don't say that.
KATEY: Ha, maybe that's another conversation entirely.
ERIC: Without a doubt. I'm going to be going into this season with incredible levels of cynicism and hope that I hear news that will surprise me.
KATEY: That's always the best way to go about it. OK, until the next time I have to shatter your dreams?
ERIC: Sounds good.
NJ native who calls LA home; lives in a Dreamatorium. A decade-plus CinemaBlend veteran; endlessly enthusiastic about the career he's dreamt of since seventh grade.
Your Daily Blend of Entertainment News
Thank you for signing up to CinemaBlend. You will receive a verification email shortly.
There was a problem. Please refresh the page and try again.