The Great Gatsby Makes Impressive $19 Million On Friday, But Can't Beat Iron Man 3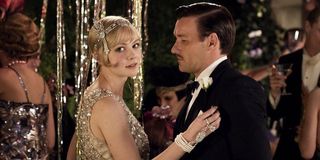 Don't have plans with your mom for Mother's Day yet? Go take her to see The Great Gatsby-- you'll have plenty of company. The glossy literary adaptation is exceeding nearly all box office expectations this weekend, making a whopping $19 million between midnight Thursday and Friday showings, and on track for a $53 million opening. As we noted yesterday, that's more than director Baz Luhrmann's last film Australia made during its entire theatrical run in the United States.
But it still won't be enough to beat last weekend's big champion Iron Man 3, which Deadline reports is down 62% from its opening weekend and will make $67 million for the weekend. If you compare it to what The Avengers made in its second weekend that's nothing, of course, but we've known for a while that Iron Man 3 is huge, but not Avengers huge. Meanwhile there's also Peeples, the weekend's other new release that's barely making an impact, netting just $1.1 million on Friday.
You don't have to look far to find us discussing both The Great Gatsby and Iron Man 3 all over the place, but we've particularly enjoyed debating DiCaprio's performance in The Great Gatsby and arguing pretty much constantly about whether or not Iron Man 3's treatment of The Mandarin was the right thing to do. You can also read our reviews of Gatsby, Iron Man 3 and even poor, underloved Peeples. Join any of those conversations at the links, or jump in the comments below to let us know what you're seeing this weekend.
Staff Writer at CinemaBlend
Your Daily Blend of Entertainment News
Thank you for signing up to CinemaBlend. You will receive a verification email shortly.
There was a problem. Please refresh the page and try again.