And The Greatest Response To Getting An Oscar Nomination Goes To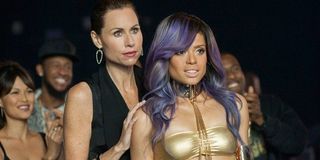 There's probably no point in even having the Academy Awards ceremony anymore, because Diane Warren's response to receiving a nomination this morning isn't going to be topped by any of next month's shenanigans.
After being asked what she might wear to the ceremony Warren told Vanity Fair:
Perfect. 110% perfect.
Diane Warren received her nomination after writing the song Grateful for Beyond the Lights. And what makes this nomination even sweeter is that both the film and the song weren't expected to feature during the nominations. Diane Warren, who has previously been nominated seven times for an Oscar without ever claiming one, admitted that she hopes this recognition will lead more people to discover the film, which she insists "is a fucking great movie." You can have a listen to Diane Warren's Grateful, which is performed by Rita Ora, below.
Diane Warren will go up against The Lego Movie's Everything Is Awesome, Selma's Glory, Begin Again's Lost Stars and Glen Campbell: I'll Be Me's I'm Not Gonna Miss You for the award. My money is on The Lego Movie's Everything Is Awesome, which was written by Shawn Patterson, to win the accolade. Especially after the shocking omission of The Lego Movie in the best animated field. However that doesn't stop Diane Warren's comments from being truly awesome.
Beyond the Lights was previously tipped as an outsider for several accolades during the awards season. After premiering at the 2014 Toronto International Film Festival back in September is was met with positive reviews, especially when it gained a wider release in November. Adulation was dolled out for its powerful leading performance from Gugu Mbatha-Raw. Plus, even though it progressed in a formulaic fashion it still managed to remain fresh and entertaining. The film stars Gugu Mbatha Raw as Noni Jean, a promising new artist who is struggling with the pressures of her potential fame. When Noni meets Nate Parker's Kaz Nicol, a police officer with political ambitions, they instantly develop a fervent relationship. However those close to the pair try to force the duo apart, insisting that they're bad for one another. They're then forced to try and ascertain what is more important to them.
The 87th Academy Awards ceremony will be held on February 22, 2015, and Neil Patrick Harris will be on hosting duties. Of course Diane Warren will have to leave the expletives at home if she does actually win the Oscar. Otherwise she will be vilified by the Academy.
Your Daily Blend of Entertainment News
Thank you for signing up to CinemaBlend. You will receive a verification email shortly.
There was a problem. Please refresh the page and try again.