The Hangover Is Highest-Grossing R-Rated Comedy Ever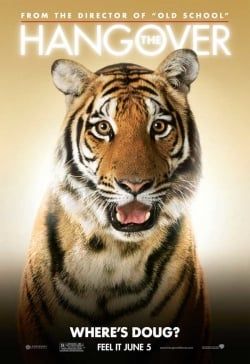 A lot of savvy Hollywood industry watchers expected going into this summer that The Hangover would be a much bigger hit than its $35 million budget would suggest. I'm going to immodestly say I was one of them. But no one, not even Todd Phillips, not even Warner Bros., could predict this. The Hangover has become the highest-grossing R-rated comedy of all time, slipping past Beverly Hills Cop with its $236 million gross to date, according to the numbers kept by Box Office Mojo.
Taking a look at the numbers, Get The Big Picture points out that inflation and rising ticket prices don't exactly make this the same achievement as it was in the 80s; then again, movies ran in theaters for far longer back then, so maybe we're even. Either way, it's astonishing to see The Hangover creep up on the records like this, especially watching its staying power as the summer goes on. It was #6 at the box office last weekend, a full 7 weeks after its release. Most thrilling of all, really, is to see a movie that's actually good, and actually funny, find the wide audience it deserves. Suck on that, Transformers 2.
Your Daily Blend of Entertainment News
Staff Writer at CinemaBlend