Hansel & Gretel: Witch Hunters 2 Coming In 2016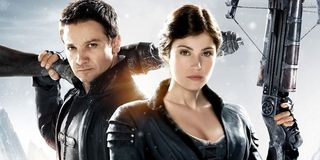 One of the weirder delights of 2013 was Hansel & Gretel: Witch Hunters, a zany horror-comedy that imagined what might have become of the lost children after they killed that candy house-owning witch. Though Paramount Pictures buried the film in January and made critics screenings hard to come by, the wild re-imagining of the German fairy tale became a box office success worthy of another adventure.
JoBlo reports Hansel & Gretel: Witch Hunters 2 is officially a go, and marked for a 2016 debut. That is all Paramount is revealing at this time. Still, it's news that will be heralded among those--like myself--who found this purposely preposterous movie pretty awesome.
Hansel & Gretel: Witch Hunters marked the English-language debut of Norwegian director Tommy Wirkola, who made a name for himself with Dead Snow. This twisted horror comedy that featured Nazi zombies (or zombie Nazis?) drew the attention of Gary Sanchez Production's Kevin Messick, who showed the film to Adam McKay. From there, McKay met with Wirkola to see if they might collaborate on his next production. Wirkola pitched Hansel & Gretel: Witch Hunters, and McKay and his producing partner Will Ferrell were instant fans.
Still, Hansel & Gretel: Witch Hunters had a rocky road to its release. Production began in March of 2011, with a release date initially set up for March 2, 2012. But Paramount later bumped it to January 11th of 2013, then January 25th. And with each bump, Hansel & Gretel: Witch Hunters' buzz was hurt. By the time it finally hit theaters, its failure with critics and audiences seemed a self-fulfilling prophecy. But while the film was slammed by most critics--a response McKay has called "lazy" and predictable--it did well with audiences. The $50 million picture made a modest $55 mil domestically, but overseas this hard-R fairy tale pulled in $170 million.
As a defender and fan of Hansel & Gretel: Witch Hunters, I was thrilled to talk with Adam McKay for its Blu-ray release. At which point, he told me a little of what fans might expect from its then-promised sequel:
Beyond that, I inquired about whether the film's stars, Gemma Arterton and Jeremy Renner, are signed on for a sequel. McKay answered:
If Arterton and Renner are coming back for Hansel & Gretel 2: Witch Hunters, Paramount has chosen to withhold that announcement for now. We'd assume Tommy Wirkola would return, as the first film was described as a major passion project. But for now, that too is unconfirmed.
Your Daily Blend of Entertainment News
Staff writer at CinemaBlend.