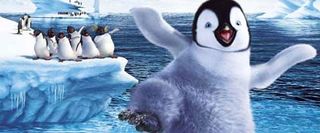 Director George Miller made the animated penguin movie Happy Feet nearly five years ago, and has spent almost all of the time since then promising, trying, and failing to make something else. He has two movies on his docket in the form of a new installment in the Mad Max franchise, and then there's Happy Feet 2. His attempts to make Mad Max were washed away by the Australian weather and so in theory he's now entirely focused on the penguin sequel. Except that, like everything else he works on, has run into even more delays too.
What's the problem? Happy Feet 2 may not have hired enough help. It takes hundreds of talented artists slaving away at hundreds of computers for months and years to make computer animated movies a reality, and it looks like Miller needs more of them. Moviehole picked up the following tweet from Stuart Cunningham, the managing director of the animation studio Funny az Hell Animation in Sydney where in theory Happy Feet 2 is being made.
Crytpic, but clear, and from someone who likely knows what he's talking about. This shouldn't be a surprise, delays are George Miller's stock and trade. He's not the kind of director who cranks out a movie every other year. Before he made Happy Feet it had been a full eight years since his last movie, Babe: Pig in the City.
That kind of delay is probably ok for something like Mad Max. There's never going to come a time when people won't be interested in more Mad Max movies, but does anyone still care about Happy Feet 2? Does anyone even remember Happy Feet? It deservedly received wide critical acclaim when it was originally released back in 2006 and earned hundreds of millions at the box office. But when was the last time someone mentioned it? It hasn't really had the shelf life of similarly successful Pixar or even less successful DreamWorks movies. This delay probably doesn't matter, because for Happy Feet 2, isn't it already too late?
What do you think? Is it too late for Happy Feet 2 or are people still interested in the singing, dancing, penguin thing? Let us know in the comments below.
Your Daily Blend of Entertainment News
Thank you for signing up to CinemaBlend. You will receive a verification email shortly.
There was a problem. Please refresh the page and try again.