Harry Potter DVD Pull Will Not Happen In Foreign Territories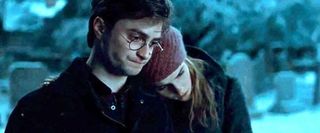 When Warner Bros. announced the in-home release of Harry Potter and the Deathly Hallows: Part 2, the company also snuck in a little warning message explaining the series will be vaulted at the end of 2011. Since Harry Potter and the Deathly Hallows: Part 2 won't appear on shelves until November 11, this only gives fans a little less than two months to nab a copy of the final film. This also means fans wanting to buy a full series set will be sorely disappointed if they attempt to wait for those post-Christmas January sales.
As resoundingly unfair as it seems to only keep a film on shelves for 7 weeks, Warner Bros. confirmed this month the entire Harry Potter series will be pulled from shelves on December 29. Since it's the Christmas season, I assume Warner Bros. plans on raking in the cash from the near-forced fan purchases.
There is light at the end of the tunnel; however. I'm sure plenty of DVDs will show up on ebay and in secondhand stores. Alright, so even if there is no real light at the end of the tunnel, there will be loopholes. While Warner Bros. plans to screw over American fans, Canada and other international territories are excluded from the move. So if you live in the land of maple leafs, you are in a pretty good position to sell us your crap for overblown prices (provided it will work in our DVD and Blu-ray players). I get Warner Bros. is trying to pull a Disney here, but there has to be a better way. Occupy Warner Bros.? Joke aside, this may not affect die hard fans of the series, but it could seriously push the buttons of the casual fans with expendable incomes. We'll see if Warner Bros.' experiment proves a boon to the company or an epic marketing failure.
Your Daily Blend of Entertainment News