Harry Potter Is Getting Its Most Evil Fan Experience Yet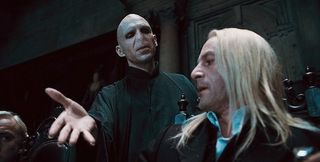 Harry Potter fans -- especially those who are most likely to be sorted into Slytherin House -- will have one more reason to want to attend the Warner Brothers Studio Tour in London. It was announced this week that a new section of the tour will be unveiled this October, which will be completely devoted to the Dark Arts. Not Defense against the Dark Arts. We're talking Death Eaters, Horcruxes, "other sinister wizarding artifacts" and more. This add-on to the studio tour is the first permanent addition since opening.
Not to be confused with Universal Studios' Wizarding World of Harry Potter attractions in Florida, Warner Bros. Studios Tour in London is set at WB's Leavesden studio, which played host to production on all eight Harry Potter films. Edge of Tomorrow, Inception and Sherlock Holmes also shot there, among other films. The Studio Tour opened in 2012 and includes set pieces, props and costumes from the Harry Potter films. The tour includes Diagon Alley (which you can also visit virtually through Google Maps). And coming soon, the tour will include a section devoted to the Dark Arts, which is the branch of magic practiced by He Who Must Not Be Named and his trusted followers.
While the Dark Arts section will open October 14, just in time for the Halloween season, it'll also be a permanent part of the tour. According to the website, the Malfoy Manor fireplace will be expanded to show off the Death Eaters' headquarters. Not only will the room include chandeliers, the imposing fireplace and the massive table where Voldemort and the Death Eaters sat, but -- here's where the set-up sounds really creepy -- a mannequin of Charity Burbage, the captured Muggle Studies teacher whom Voldemort tortured for the entertainment of his followers, will be suspended above the set. And a model of Nagini, Voldemort's 20-foot snake, will be sitting on the table.
Image Credit: WBStudioTour.co.uk.
Visitors will also get to see props from Borgin and Burkes, the Knockturn Alley store that's known for selling dark objects. There will also be a section of Dolores Umbridge's Ministry of Magic office, which will include kitten plates and probably a lot of pink. Somehow, that seems darker than Borgin and Burkes.
In addition to the new Dark Arts section, Warner Bros. Studio Tour in London also has some extra dark arts activities, which include a section of the Halloween feast from Harry Potter and the Philosopher's Stone on display in Hogwarts' Great Hall. Will that include a nod to this moment?
No specifics on what exactly will be included in the Halloween Feast display, but here's hoping! ("Thought you ought to know.").
In addition to the Halloween Feast add-on, the special two-week event (October 17 to November 3) will have Diagon Alley's lights dimmed, with foreboding music playing and the streets patrolled by Death Eaters. Sounds creepy, but certainly a perfect way to make things a bit spookier at the tour during the Halloween season.
It's exciting to hear of an update to the tour, particularly for those who have visited Warner Bros. Studios Tour London already and have been looking for an excuse to go back. Between that and the recently expanded Wizarding World of Harry Potter Diagon Alley section in Universal Studios Orlando, there are a couple of key places for diehard fans to convene and celebrate their love for the Harry Potter films and J.K. Rowling's excellent series of novels.
Rowling's world is only getting bigger, as J.K. Rowling is currently penning the screenplay for the hugely anticipated Fantastic Beasts and Where To Find Them feature trilogy that's in the works.
Assistant Managing Editor
Kelly joined CinemaBlend as a freelance TV news writer in 2006 and went on to serve as the site's TV Editor before moving over to other roles on the site. At present, she's an Assistant Managing Editor who spends much of her time brainstorming and editing feature content on the site.
Your Daily Blend of Entertainment News
Thank you for signing up to CinemaBlend. You will receive a verification email shortly.
There was a problem. Please refresh the page and try again.