Has Former Dr. Who Sylvester McCoy Been Cast As Bilbo Baggins?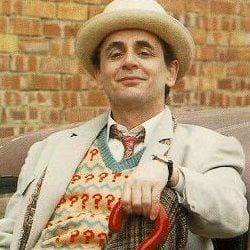 A long long time ago-- more than a decade ago, in fact-- before Ian Holm had been chosen to embody Bilbo Baggins on film, the casting process had apparently come down between Holm and Sylvester McCoy, a British actor best known for playing Dr. Who in the last 80s. Holm got the part the first time around, but now Screenrush is hearing from McCoy himself that he has gotten the role for The Hobbit. Not just auditioning, but he's actually been cast.
You can choose to believe this information because Peter Jackson is apparently traveling the world right now looking for actors. But you can opt not to believe it because of logic-- the events of The Hobbit happen when Bilbo is much younger, and McCoy is 66 years old. Yes, they can use makeup and other effects to de-age him, and hobbits have different life spans than humans, but come on. This news makes no sense, and everyone ought to know it.
I'm not saying Screenrush is making it up or has their facts wrong, but there might be something lost in translation here. Maybe Jackson is meeting with McCoy because he's an old friend, and somehow the news got out that he'd been cast. Or maybe, much more logically, McCoy will play an older version of Bilbo in bookending editions of the story, though if that were happening wouldn't it make much more sense for Holm to do it, as a way of connecting the film to Lord of the Rings? Either way you probably shouldn't count on this being your Bilbo-- not just because Jackson isn't confirmed as the director and MGM doesn't have the money to film it, but because this news seems a little too strange to be serious given what we know.
Staff Writer at CinemaBlend
Your Daily Blend of Entertainment News
Thank you for signing up to CinemaBlend. You will receive a verification email shortly.
There was a problem. Please refresh the page and try again.