Hayley Atwell To Headline 10 Things I Hate About You Sequel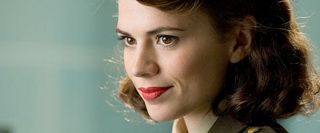 Director Gil Junger is undoubtedly best known for helming the spirited '90s The Taming of the Shrew adaptation 10 Things I Hate About You. Actually, he's known for little else. So, encouraged to reclaim some fame, Junger has told Variety he is working on a sort-of sequel to the teen-comedy that still scores him residual checks. The good news is he's secured the charming Hayley Atwell (Captain America: The First Avenger) to star. The bad news is just about every other aspect of this proposed picture.
First off, there's no promise that 10 Things I Hate About You stars Julia Stiles, Larisa Oleynik or Joseph Gordon-Levitt will return, and of course there's no possibility of Heath Ledger reprising his role. So how will this so-called sequel connect to the original? Junger, who will not only direct but has also penned the script, is being painfully vague about that, asserting only that it "advances the situations from the original film," and will be called 10 Things I Hate About Life. Like its precursor, the feature will be a romantic comedy, but rather than centering on teens traversing the clique-ridden terrain of high school romance, it will focus on "two relatable, ordinary people" whose meet-cute occurs while attempting to kill themselves.
Beyond having only a tangential tie to 10 Things I Hate About You, 10 Things I Hate About Life sounds an awful lot like A Long Way Down, an upcoming adaptation of Nick Hornby's novel about four strangers who meet one fateful night on a rooftop, all planning to commit suicide. But Junger's inspiration for the plot is far more personal, and strange. It seems he was moved to pen 10 Things I Hate About Life after discovering the body of a man who has killed himself at a scenic overlook. So…it's an unconventional impetus for a romantic comedy to say the least.
10 Things I Hate About Life is currently seeking financing.
Staff writer at CinemaBlend.
Your Daily Blend of Entertainment News
Thank you for signing up to CinemaBlend. You will receive a verification email shortly.
There was a problem. Please refresh the page and try again.