Henry Cavill Cast As Zack Snyder's Superman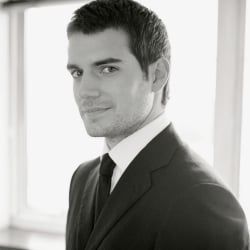 Breaking some truly unexpected news on a slow Sunday, Deadline is reporting that Henry Cavill has been cast as Clark Kent and Superman in Zack Snyder's upcoming take on the superhero. You may remember that the producers were looking for an actor near 30 to play the part; Cavill is 27, and recently appeared in Whatever Works, Stardust, and on Showtime's The Tudors as Charles Brandon.
Though Cavill isn't a complete unknown, he definitely fits the rumors that Snyder and producer Christopher Nolan would be seeking out a somewhat unfamiliar actor for the part, and also one with a little bit of TV experience. Cavill wasn't at the top of the pack for any of the feverish speculation that came after that comment, but he fits the bill perfectly-- he even looks the part.
Cavill is something of a blank slate going into the role, which means it might not be the inventive casting some were hoping for. I'm basically unfamiliar with Cavill's work, so I'm relying on you guys to help me out here. Good choice? Bad choice? Or will we have no way of knowing until we actually see what Snyder's going to do with the actor, the character, and this entire reboot of such a valuable franchise? It's worth noting that Cavill was born in the British dependency the Channel Islands, meaning a non-American will be taking over the most iconic American superhero. Then again, Kal-El himself is an immigrant, so maybe it's only fair.
Here's what Henry Cavill looks like in his Superman costume...
Your Daily Blend of Entertainment News
Staff Writer at CinemaBlend