Here's What Happened After A Teacher Showed Students The Human Centipede 2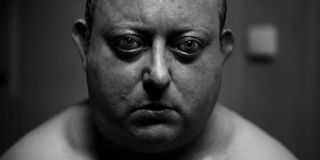 We all remember that awesome feeling when we were in school. The teacher would roll in an old-fashioned TV, and we knew that traditional lecturing would be put on the back burner in favor of an "educational" movie. While we seldom watched anything totally Oscar-worthy during these school days, they still beat the hell out of learning. However, one unfortunate class didn't get the luxury when a teacher made them sit through The Human Centipede 2 (Full Sequence) earlier this month.
According to The Jackson Sun, when a teacher at Jackson Central-Merry high school in Tennessee showed The Human Centipede 2 to a class, the district swiftly sent a letter home to parents apologizing for the misconduct. The letter, from the school's principal, read:
At this point it remains unclear exactly why the teacher even showed the film to the class. The letter does not explicitly name the horror film, and does not go on to explain whether or not the teacher received a disciplinary action as a result of this film screening. The school is pretty much in crisis-mode now by trying to save as much face as possible and distance itself from the teacher in question.
We really cannot even begin to explain just how bad it is that a teacher would consider it appropriate to show this film in class. Even the first Human Centipede movie would have arguably gone over better. While the series has developed a reputation over the years as one of the latest (and worst) "torture porn" franchises in existence, the original film doesn't actually have as much gore as one would expect.
However, The Human Centipede 2 is jam packed full of some of the most visceral, gory, and overall cringe-inducing scenes in recent memory. Centered on a maladjusted British man with serious daddy issues, the sequel follows him on his demented journey to honor the events of the original Human Centipede film – despite his profound lack of education and medical expertise. What follows is a feature length torture session that puts even the worst Eli Roth films to shame.
The censored trailer for the film alone is enough to give you nightmares. Just take a look at this two-minute reel while trying to control both your goose bumps and your gag reflex:
Honestly, I think I would probably take an algebra lesson over The Human Centipede 2 any day of the week. We may never know what that teacher was thinking by showing the film to a class of full of high school students, but I genuinely do not hope that he or she has tenure at that school.
Originally from Connecticut, Conner grew up in San Diego and graduated from Chapman University in 2014. He now lives in Los Angeles working in and around the entertainment industry and can mostly be found binging horror movies and chugging coffee.
Your Daily Blend of Entertainment News
Thank you for signing up to CinemaBlend. You will receive a verification email shortly.
There was a problem. Please refresh the page and try again.