Public Outcry Kills Torture Porn Marketing Campaign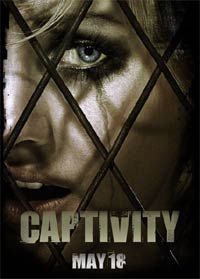 After Dark and Lionsgate films have been forced to discontinue their marketing campaign for their new Elisha Cuthbert starring torture porn movie Captivity, after an outcry of public disgust and outrage in Los Angeles and New York. The Hollywood Reporter says the campaign included billboards and taxi cab top advertising using pictures of Cuthbert in various stages of imprisonment.
Normally, I'm the first to jump on the freedom of expression band wagon but in this case I'm on the side of the publicly outraged. The posters show, and even glorify the captivity and torture of a woman. Bad enough that we have movies like Hostel and Turistas doing it, but at least those are things people choose to see by walking up to the box office and buying a ticket. When it's on a billboard, it's thrust into your life and the lives of your kids whether you want it or not.
Here's what they had on the posters: One shows Cuthbert's face being covered by an ominous rubber glove with the caption "Abduction" above it. Another shows her face behind a metal fence, with a bloody finger poking through below the caption "Confinement". The third depicts Cuthbert's face covered in white gauze with tubes shoved up her nose beneath the word "Torture". The fourth and final billboard is titled "Termination" and shows a female body with the head thrown back. Actually, let's just call it a corpse.
After Dark and Lionsgate have begun removing the ads, but I doubt they mind. Come on, they had to know this would piss people off. It's standard horror movie marketing these days. You release completely unacceptable marketing materials, wait for people complain about it and stir up controversy (thus getting your film's name in the papers), and then you do a mea culpa and pull everything. You've just gotten your film a ton of publicity and it cost you absolutely nothing. The only surprising thing here is that the MPAA actually approved the billboards, while axing similar marketing materials for other horror movies. Unless the state starts issuing fines for this sort of thing, expect to see the same tactic used again on whatever the next torture porn flick is.
Your Daily Blend of Entertainment News