Here's What Pitch Perfect 2 Is About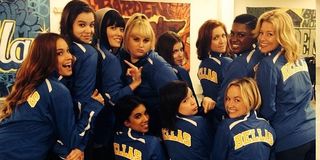 In 2012, the pop-pumped musical comedy Pitch Perfect won the hearts of audiences. So, its cast was quick to regroup for a sequel. With production wrapped, Pitch Perfect 2's Elizabeth Banks is ready to dish on the details to the next chapter of the tale of the Barden Bellas.
Yahoo Movies spoke with Banks, who was a co-star and producer of the first film. But with its sequel, she steps up to the role of director, making Pitch Perfect 2 her directorial feature debut. But where will this sequel take Beca (Anna Kendrick) and the gang? According to Banks, Pitch Perfect 2 is set during much of the crew's final year, meaning Beca, Fat Amy and Jesse are all set to graduate soon. Banks explains:
We also anticipate a massive, epic pillow fight.
Much of the original cast are back, reprising their roles, from Anna Kendrick, Rebel Wilson, Anna Camp, Brittany Snow, to Hana Mae Lee, and Alexis Knapp. And of course a few of the male a cappella enthusiasts are returning as well, like Skylar Astin and Adam Devine. New to the crew are Hailee Steinfeld and Sons of Anarchy star Katey Sagal. But Elizabeth Banks is also promising some cameos from real-life a cappella groups like Pentatonix and the Filharmonic, and Penn Masala. She expands:
But when it comes to what songs these or the Barden Bellas might be belting in Pitch Perfect 2, Elizabeth Banks is keeping her lips sealed. Which is fine. We'll just listen to the "Cups" for the 11 gazillionth time in anticipation.
Pitch Perfect 2 opens May 15th, 2015.
Your Daily Blend of Entertainment News
Staff writer at CinemaBlend.