Highlander Helmer Directs Thomas Jane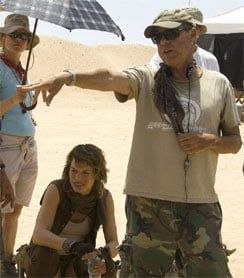 Russell Mulcahy was a pretty big deal director… for about five minutes. Then he followed up Highlander with the travesty of Highlander II, and he's been directing Duran Duran videos and Resident Evil movies ever since.
I don't think the guy has gotten what he deserved. The first Highlander was brilliant the second one wasn't entirely his fault. Besides, he's also responsible for The Shadow, which is criminally underrated. With Highlander being remade, maybe it's time for Russell Mulcahy to be remade too. He won't be Quickening again, but he is up to something pretty interesting according to the guys over at Moviehole.
They say Mulcahy has signed on to direct a movie called Give 'Em Hell Malone. With a title like that, it really can't go wrong. The film stars Thomas Jane as a private investigator named Malone who "goes through hell" to protect secret information from gangsters and thugs. Ving Rhames is also involved (thug?) and word is that Michelle Rodriguez may be in talks to join the cast. Could be an interesting project, and Mulcahy (Rodriguez and Jane too for that matter) certainly deserves a another chance. I've always sort of thought of Thomas Jane as a modern day Chistopher Lambert. Jane and Mulcahy is a perfect fit. Come on, Resident Evil: Extinction wasn't that bad.
Your Daily Blend of Entertainment News
Thank you for signing up to CinemaBlend. You will receive a verification email shortly.
There was a problem. Please refresh the page and try again.