Highlander Reboot Goes Fast And Furious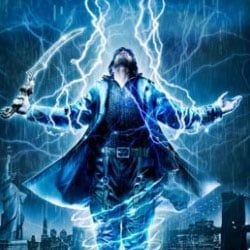 Highlander hasn't worked as a movie since 1986. That hasn't stopped them from making more features, but with each subsequent release people cared less and less until last year, the latest adventure ended up barely watched in a straight to television premiere. Normally I'm not a fan of rebooting things which have already been done, but in the case of Highlander, it's warranted. Summit Entertainment announced today that they're moving forward with their Highlander franchise reboot and they've hired Justin Lin to direct and Neal H. Mortiz to produce. Long time Highlander franchise stalwart Peter Davis will also produce.
So it's good news and bad news for Highlander fans which I suppose, is a big step up from the never ending bad news we're used to. On the one hand Moritz is a big deal, a guy who cranks out big budget Hollywood movies with the wave of his hand. That probably means that for once, someone is going to spend a lot of money on a Highlander movie. Unfortunately on the other hand there's Lin who hasn't really done anything that didn't suck. In particular he's known as the director of the last two, pretty horrible, Fast and the Furious movies. I hope he's better at shooting sword fighting than he is cars.
Summit plans to re-imagine everything and start the franchise over from scratch. In the process they intend to "expand on the original Highlander's core mythology of immortals battling amongst us, hunting each other through the ages." Hopefully they'll also drop all that awful shit about them being aliens from the planet Zeist.
In its original incarnation Highlander starred Christopher Lambert as Connor MacLeod, a man born in the Scottish Highlands in 1536 and still alive in modern times. He's an Immortal, one of many who live among us secretly, battling for an ultimate prize which they can only win by being the last Immortal alive. And that's where the smartest conceit of the Highlander mythos comes in. You can only kill an Immortal by chopping off his head, necessitating the use of ancient swords and edged weapons in the streets, alleys, and underground parking garages of modern America. The original movie inspired a generation of metal heads with its hard-edge Queen soundtrack and long-haired killers. It went on to spawn an equally excellent television series and a lot of horrible, horrible sequels which, we can only hope the reboot will help be forgotten.
Your Daily Blend of Entertainment News
Thank you for signing up to CinemaBlend. You will receive a verification email shortly.
There was a problem. Please refresh the page and try again.