Hollywood Is Really Bad At Giving Women Roles, According To Obvious Math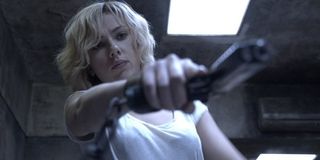 When it comes to leading roles for women in the film industry, it appears that the number has gone down. At least, that's what statistical data from an annual report released by San Diego State University confirms. According to the findings, a mere 12 percent of films released in 2014 would focus on a female protagonist - a number that's down three percent from the 2013 number. Is this the sign of a trend of diminishing film roles for women? Or are there other variables that are keeping Y chromosomes predominantly present at the box-office?
As a report from The Wrap points out, findings from the university's Center for the Study of Women in Television & Film (SDSU) in a report titled, "It's A Man's World," shows that, of 2,300 characters from the top 100 grossing films of 2014, women only represented 12% of what the study refers to as "clearly identifiable protagonists." Compared with the data cited from the other years, it shows the number down three percent from 2013 and down four percent when compared to the numbers all the way back in 2002. According to Dr. Martha Lauzen, executive director of the SDSU, the findings reflect a mentality widespread throughout the business:
You'll probably find very little argument against the idea that Hollywood is in a state of "arrested development" as far as its overall focus and the aesthetics on which it fixates. Playing to the report's argument, leading roles for women tend to mostly evoke thoughts of deadly, buxom, emasculating femme fatales similar to ones played by Scarlett Johansson. (Pictured above in Lucy.) However, as fascinating as studies like these tend to be, there are a vast number of variables which can tell a different story - especially if we are to take raw statistical numbers and use them to divine the motivations of the industry titans. For instance, how many projects (mind you, GOOD ones) with female protagonists are floating out there waiting to be greenlit? Of those floating projects with female protagonists, what percentage of them get greenlit when compared to the male-centric projects? Yet, even questions like that lack the qualitative bridge that would identify the floating projects of both female and male protagonists as predominantly "good" or "bad," affecting whether they get made.
Interestingly enough, the study's wider category of the overall number of "speaking characters" actually show an increase in women roles from last year, going from 29 to 30 percent. Yet, among them, the women characters are shown to be generally younger than their male counterparts, with the number of women characters dramatically dipping from 30% to 17% with characters in their 30's compared to ones in their 40's. Their male counterparts, in that same scenario actually experience an increase, going from 27% to 28% in the same age groups. Plus, the number of women characters in their 50's, at 9%, is exactly half the number of males of that same age.
Additionally, the study finds a slight decline in the number of roles for Black females (4%) and Latinas (4%), although the number of Asian females (3%) actually showed an uptick. In a rather rare moment of levity in the mostly statistic-heavy report, the observation is made that:
Hey, extra-terrestrial women have quite a ways to go, themselves! Well, at least they have Gamora and Nebula from Guardians of the Galaxy representing.
What is the takeaway from these numbers? Probably that there is some cultural myopia in the industry, attributed to several disparate reasons which tend create dramatic numbers like the 12 percent statistic mentioned at the top of this article. We can certainly take the idea that the industry's state of "arrested development" is symptomatic of a number of things, from inside-the-box business strategies, to the basic idea of playing things safe by staying the course with what's been done for decades. However, it's probably not productive to lament the number as a sign that Hollywood "doesn't want" to provide more women leads, but rather, that they just currently suck at said task. I think we can all agree on that.
Your Daily Blend of Entertainment News