Guardians Of The Galaxy's Nebula Almost Had A Very Different Look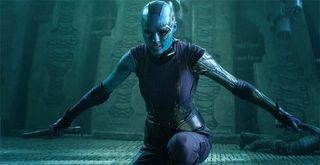 Actress Karen Gillan shaved her head to play Nebula in Guardians of the Galaxy, and that sacrifice paid off. Nebula, despite her somewhat nebulous role in the film, stands out in a cast of great heroes and villains. A lot of that has to do with the script and Karen Gillan's performance, but at least a part of it is simply because of her look which is, in a word, badass. Yet, believe it or not, she might have looked even better.
Earlier this month we showed you this alternate look for the character which displayed a lot more skin. But that's just the tip of the iceberg, when it comes to what Marvel had in mind. Below are a few more alternate looks the Guardians of the Galaxy team was considering for the character, released by Marvel concept artist Andy Park and picked up by our friends at GFR.
And here's another one, with a similar, strappy theme…
I do like the look of all the straps around her midriff, but both of these ideas are at least still in the same ballpark as the Nebula we got in the film. Here's what she looked liked on screen for comparison…
But they were also considering some wilder designs for the character. Check out this one, featuring weird spikey, hair-like things coming out of the back of her head. The outfit is a lot more militant and for some reason she seems to be wearing Beats by Dre.
Park also had a few ideas Guardians director James Gunn considered for Gamora. Since Nebula and Gamora are sisters, it makes sense that they might have a similar aesthetic so he did this…
And also this…
What do you think? Should Marvel have used one of these looks instead? Personally I wish they'd gone with the first design and taken Nebula to the next level of badass. Sound off with a comment.
Your Daily Blend of Entertainment News