Hoodwinked 2 Cast Announced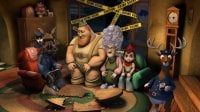 When you see a story saying that casting has been announced for Hoodwinked 2, your first thought is probably, "wait, didn't the first movie suck and make no money?" Well, I didn't think it was that bad, but it certainly wasn't a critical fave. The official CinemaBlend review was pretty harsh. The animated retelling of Little Red Riding Hood made about $50 million, which is enough, I guess, for the Weinstein Company to green light the sequel. Co-writer and co-director of the original and co-writer of the sequel, Cory Edwards, revealed the entire voice cast of the sequel on his blog.
The biggest news is that Anne Hathaway has either gotten too big or too expensive to reprise her role as Red. She will replaced behind the mike by Hayden Panettiere of Heroes fame. The rest of the key players remain in place with Patrick Warburton coming back to channel Chevy Chase's Fletch as the Wolf. Glen Close will play the never overused character of the extreme sports loving Granny. David Ogden Stires will play Nicky Flippers. I don't remember that character in the first movie, but I'm sure it was great. Other returning voices are Andy Dick as Boingo (he was the villainous rabbit in the first movie) and Edwards himself as Twitchy.
Some new voices will also be joining the cast as Red takes on an evil witch voiced by Joan Cusack. The role of the Woodsman (Jim Belushi in the first movie) is being taken over by Martin Short. He's ok in small doses, so hopefully the role will be small. David Allen Grier, Brad Garrett, Wayne Newton, Amy Poehler and Bill Hader have various roles as fairy-tale characters. Mike D'Isa, a longtime Disney animator, is taking over as director. I guess there is nothing to do at this point but hope for the best.
Your Daily Blend of Entertainment News
Thank you for signing up to CinemaBlend. You will receive a verification email shortly.
There was a problem. Please refresh the page and try again.