Hot Girls Wanted Trailer Reveals The Disturbing Side Of Amateur Porn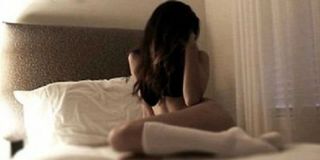 Over the years more and more regulations on the methods of the porn industry have resulted in a decline in production. But, the demand for pornography doesn't stop. And so the industry has seen a dramatic increase in amateur production where it is much more simple and affordable to promote directly to an audience. While we may look at amateur porn like Kevin Smith's Zack and Miri Make A Porno, there's a much darker, disturbing side to the industry. Rashida Jones' documentary, Hot Girls Wanted reveals the reality of amateur porn, and it may not be what you expected. Take a look at the trailer.
Hot Girls Wanted documents the frightening reality of the amateur porn industry. As you can tell from the trailer, many of these newly made porn stars are simply young teenagers who clicked an ad that promised them fame. Though it is legal to take part in the industry after 18 years old, many of the producers and directors specifically look for young girls between the ages of 18 and 20 for their films. The original intention of the Hot Girls Wanted documentary was to explore the male consumption of pornography on college campuses, but after seeing that most of these men were watching porn starring these young girls, curiosity swayed towards why these women were entering the industry in the first place.
Netflix released the trailer yesterday, as the documentary hit the streaming service. The film was produced by Rashida Jones with directors Jill Bauer and Ronna Gradus attached. It first debuted at Sundance Film Festival earlier this year and was well-received by critics. Which is no surprise considering this isn't the first time the co-directors tackled the subject of the porn industry. Their 2012 documentary Sexy Baby explored the impact of porn and pop culture from three different perspectives: a 12-year-old feminist, a 22-year-old kindergarten teacher and a 32-year-old former porn star. In the cases explored in Hot Girls Wanted the troubled lives of these young porn stars cover a wide range of issues from everything to misogyny to mental health.
Netflix partnered with the team behind Hot Girls Wanted back in February hoping to expose the shocking world which the documentary explored. The directors told Deadline that Netflix shared their passion for sharing a story that "no one wants to talk about but that needs to be discussed".
The provocative subject is sure to bring about some controversy, but the accounts documented in the film are all popular scenarios in the continually growing amateur porn industry. Hot Girls Wanted is now available to stream on Netflix.
Your Daily Blend of Entertainment News
Your Daily Blend of Entertainment News
Thank you for signing up to CinemaBlend. You will receive a verification email shortly.
There was a problem. Please refresh the page and try again.