How Brad Pitt Feels About His Son Watching Violent, R-Rated Movies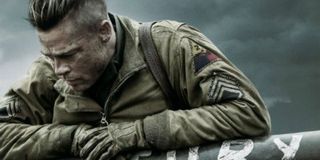 Brad Pitt has admitted that he lets his 13-year-old son Maddox watch violent, R-rated movies. However he also makes sure to talk through what he has just watched with him afterwards, plus he feels that he can handle watching the extreme content anyway.
Pitt made the comments to The Associated Press during his promotional tour for Fury, the World War II drama that has come in for some criticism because of its gruesome scenes. While on the red carpet for the film's world premiere on Wednesday, Pitt admitted that he wouldn't have a problem with Maddox watching the film because, "He's a World War II buff." When asked about watching violent films with his children he explained: "The world is a beautiful place, but it's also a very violent place. We talk about it afterward, so I'm not so opposed."
The iconic Fight Club, Ocean's Eleven, and Inglorious Basterds star did admit that he's from "another generation" when it comes to watching more mature content. He confessed:
Whether any of these movies were actually as gory as Fury is very much up for debate though. Davie Ayer's movie allegedly possesses brutally bloody scenes that show a solider being ripped apart thanks to rapid machine-gun fire, while a tank commander is also allegedly decapitated too.
I'm pretty sure the production code that was in place when Brad Pitt was 13, as well as the fact that special effects weren't quite as impressive in 1977 as they are today, means that modern movies are a tad more violent. Still, despite the comments surrounding its blood-soaked content, Fury has so far been met with mostly positive reviews and it's now in theaters across the country for you consumption. If you have a 13-year-old son, despite Pitt's aforementioned comments, I'd still probably leave him at home though.
Meanwhile, any discussion about Brad Pitt this week should also be joined by his already legendary appearance on Between Two Ferns with Zach Galifianakis. Galifianakis manages to include various snide comments about Pitt's relationship with Angelina Jolie and Jennifer Aniston, all while his guest quietly sits and takes the abuse. If you haven't watched it yet, check it out on the next page. I promise you it won't be the last time you do.
Between Two Ferns with Zach Galifianakis: Brad Pitt from Zach Galifianakis
Your Daily Blend of Entertainment News