How Far Straight Outta Compton's Cast Went To Ensure Their Skills Could Match N.W.A's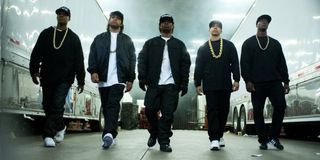 Trying to match the talent of N.W.A's hugely talented musicians must have been a daunting task for Straight Outta Compton's cast. But, as those of us who have seen the film can attest, they each do sterling work in their roles. And it turns out that they went to great lengths in order to try and match Dr. Dre, Eazy-E, Ice Cube, DJ Yella, and MC Ren's antics. In fact, they even went as far as to re-record the entire Straight Outta Compton album, which was released in 1988.
USA Today (opens in new tab) have reported that Corey Hawkins, O'Shea Jackson, Jr., Jason Mitchell, Neil Brown, Jr., and Aldis Hodge, who play Dr. Dre, Ice Cube, Eazy-E, DJ Yella, and MC Ren, respectively, each went into a studio to re-record N.W.A's debut album. This was orchestrated by the film's creative team to try and help each actor get into character.
If that wasn't enough, when each of the actors had to perform their own rapping during filming most of the time they had to do so in front of the real rappers too. The audio that you hear in the final cut of the film is a mix of the original rappers' voice with that of the actors.
And clearly the actors did a rather impressive job, because Aldis Hodge, who plays MC Ren in the film, revealed that the rapper said his rapping was "dope." Which, I can only imagine resulted in Hodge reacting in a similar manner to below:
Straight Outta Compton has continued its impressive run at the box office over the last 7 days, as it hauled in an extra $26.8 million during its second week, which means that it has now amassed over $111.5 million. Which, when you consider that its production only came in at $29 million is a healthy return for Universal.
Sure, the studio's stunning year at the box office has included much more shocking and lucrative successes, which includes the likes of Furious 7, Jurassic World, and Minions, but Straight Outta Compton proves that even when they turn their heads to less profitable genres they can still be triumphant.
Part of this success is down to the cast's ability to deliver strong and evocative performances of N.W.A's music, which are not just quick imitations, but really bring the posse's work to life in a memorable fashion. Straight Outta Compton is still in cinemas.
Your Daily Blend of Entertainment News
Thank you for signing up to CinemaBlend. You will receive a verification email shortly.
There was a problem. Please refresh the page and try again.