You Can't Actually See Straight Outta Compton In Compton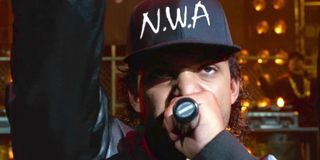 Straight Outta Compton has made quite a large impact since hitting cinemas on Friday. And while cities across the United States are currently reveling in the on-screen antics of Ice Cube, Eazy-E, Dr Dre, DJ Yella, and MC Ren, there is one place that hasn't been able to see the film yet. Almost cruelly, that place is Compton itself, because the Los Angeles neighborhood doesn't actually have a cinema in which it can play.
The F. Gary Gray-directed film is primarily set in the titular region, which is situated just south of downtown LA and has a population of around 95,000 people. You're probably wondering how such a large hub doesn't have one cinema. Well, according to Manuel Pastor, a USC professor of sociology talking to CBS News, the lack of a cinema is because the area is a "low income area" that has "been heavily dis-invested in."
There are already plans afoot to bring an entertainment district to Compton, though, which will include a 16-screen cinema that will show the latest Hollywood releases. These plans were confirmed by Compton City Manager Johnny Ford, who explained that seventy percent of a newly developing area will be for the movie theater, and the remaining thirty would be left for retail space.
Unfortunately, as negotiations are still only at an early stage, the multiplex won't nearly be ready while Straight Outta Compton is actually in cinemas. This is a shame, because the movie is a stunning, entertaining, and enthralling retelling of the origins of N.W.A. thanks to its sterling cast and the superlative direction of F. Gary Gray.
Starring O'Shea, Jackson, Jr. – who just so happens to be Ice Cube's son - Corey Hawkins, Jason Mitchell, Aldis Hodge, Neil Brown, Jr., and Paul Giamatti, Straight Outta Compton is set during the mid to late 1980s and tells the story of how N.W.A. was formed and went on to become one of the most important acts in the history of American music. They achieved this by managing to translate their experiences of growing up their neighborhood into music that connected with music fans across the globe.
Straight Outta Compton has so far been met with rather superlative reviews from both critics and audiences alike. It's also managed to resonate with a mainstream audience too, as it already grossed $60.2 million over its opening weekend. This was the fifth-best August opening weekend total of all-time, while it's the highest in the month for an R-rated film. Straight Outta Compton is still currently in cinemas, and it's been a late, great addition to a pretty stellar slate of summer movies. In other words, you really need to get it seen.
Your Daily Blend of Entertainment News