Straight Outta Compton 2 May Focus On These Rappers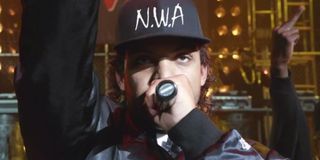 In Hollywood, it's never enough to merely tell one story; success creates franchises, and franchises inevitably generate more money. Now, the unexpected success of Straight Outta Compton has allegedly opened the door for a possible sequel, this time focusing on another familiar group of rappers, including Snoop Dogg and Tupac.
According to TMZ – via Dogg Pound rapper Daz Dillinger— a follow-up to the surprise hit Straight Outta Compton is currently in the works. The sequel would similarly chronicle the rise of numerous West Coast rap legends, taking place almost directly after Straight Outta Compton, the sequel will focus on the careers of Snoop Dogg, Nate Dogg, Kurupt, and Tupac – among others. Inspired by that particular rap group, the project would be titled Dogg Pound 4 Life. Similar to Straight Outta Compton, the rumors indicate that while the film will focus on the rise of the group, as well as take an unflinching look at the violence and conflict associating with that rise.
While all of this sounds exciting, a spokesperson for Universal recently addressed the rumors directly, telling Entertainment Weekly:
When the rumors began to swirl, rapper Ice Cube's publicist also quickly issued a statement that he has yet to sign off on a follow-up to his recent biopic.
However, just because Universal has denied plans for a follow up does not necessarily mean they have no plans for one. While Ice Cube may not have authorized a sequel to Straight Outta Compton, telling the stories of an entirely different troupe of rappers could prove a viable means for Universal to sidestep that disapproval. Snoop Dogg and Tupac made brief appearances in Straight Outta Compton, and audiences would no doubt flock to theaters to see their stories fleshed out and expanded upon.
Financially, the decision to press forward and produce a sequel makes sense. Straight Outta Compton has absolutely dominated the box office this month, becoming the highest grossing R-rated August opening of all time. Also, considering that the death of Tupac is generally considered one of the most controversial events in the history of hip-hop, this potential sequel could end up becoming even bigger than the film that preceded it – if it even ends up happening.
Only time will tell if these rumors end up coming to fruition. Given the fact that Straight Outta Compton continues to generate acclaim -- and a healthy profit -- for Universal, the likelihood seems more and more likely as time goes on.
Originally from Connecticut, Conner grew up in San Diego and graduated from Chapman University in 2014. He now lives in Los Angeles working in and around the entertainment industry and can mostly be found binging horror movies and chugging coffee.
Your Daily Blend of Entertainment News
Thank you for signing up to CinemaBlend. You will receive a verification email shortly.
There was a problem. Please refresh the page and try again.