How The Harry Potter Spinoff Films Compare to Star Wars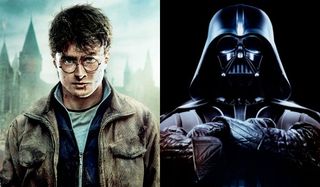 There a few spiritual similarities between the Harry Potter and Star Wars franchises. "The Boy Who Lived" and Luke Skywalker begin as young boys about to discover their inner powers. Along the way they traverse fantastical worlds and encounter astounding creatures and menacing threats, including their respective dark lords. According to Warner Bros. CEO Kevin Tsujihara, there are even more comparisons to be made as the world of HP continues to grow with Fantastic Beasts and Where to Find Them.
As Lucasfilm embarks on their mission to expand the Star Wars universe with a new trilogy and a slew of spinoffs, so too is Warner Bros. with Harry Potter. Tsujihara recently spoke at a celebration event for the new Hogwarts Express attraction at Warner Bros. Studio Tour London: The Making of Harry Potter on Tuesday night, during which time he spoke about the similarities between Fantastic Beasts and the new Star Wars movies. According to The Hollywood Reporter, he said,
It seems as though he's referring specifically to the Star Wars spinoffs. While the Star Wars: Episode 7-led trilogy will continue a more linear progression of the main story line, though years after the events of Return of the Jedi, the spinoffs take place in varying times. The first spinoff is titled Star Wars: Rogue One, directed by Gareth Edwards and stars The Theory of Everything's Felicity Jones, and it'll be released on December 16, 2016.
Based on what we know from this new bit of information and previous information, Fantastic Beasts will follow a similar trajectory. If you're familiar with the J.K. Rowling-penned companion book of the same name, the spinoff film will follow wizard/writer Newt Scamander. The book he wrote is the culmination of his work documenting 75 magical species all around the world. In the companion book, Rowling included a message from Scamander, which states that he traveled across five continents in his magizoologist pursuits, witnessed the powers of great beasts, earned their trust and, "on occasion, beaten them off with my traveling kettle." These adventures take place 70 years before Potter first reads his compendium in school at Hogwarts, which leaves little room for Daniel Radcliffe, Emma Watson and Rupert Grint.
Your Daily Blend of Entertainment News