How James Franco's Hosting Ruined The Oscars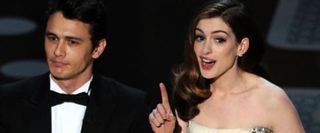 I'm an Oscar obsessive, one of those terrible people who would watch a six-hour ceremony gladly and silently cheers every time the show creeps on past midnight. But at some point during last night's telecast even I started getting antsy. From the out-of-place tributes to Best Picture winners of the past to the dirge-like Best Original Song performances to acceptance speeches low on drama and emotion, last night's Oscars felt particularly bloodless and slow-- and at the center of it all was James Franco, who did everything in his power to make it even worse.
When he and Anne Hathaway kicked off their co-hosting duties with that classic gag of inserting themselves into the year's movies, things were looking promising. Franco's comic timing killed in the Inception bit, and he and Hathaway were equally game to look as goofy as they needed to be, something every great Oscar host has needed to some degree. But immediately after came Franco's worst moment of the night, an opening monologue in which Franco seemed entirely sleepy and disengaged, walking onto the stage with his iPhone in hand and smirking off to the side in moments that weren't particularly funny. His low-key affect caused Hathaway to work all the harder to make up for, setting up a dynamic that would last for the rest of the show and feel more and more grating at every turn.
As the show proceeded it seemed that the producers already understood the disaster they were working with. Hathaway got a solo singing number, inexplicably dedicated to former host Hugh Jackman and not all that funny to boot, while Franco only showed up periodically to introduce presenters, and almost always with Hathaway by his side. Midway through the show they actually brought in pinch hitters, as eight-time host Billy Crystal took the stage to deliver a handful of jokes that were actually funny. Then he introduced a video projection of very-dead former host Bob Hope, and the desperation became too much to bear. I hope at least Hathaway or Franco was backstage somewhere and self-aware enough to realize they had been replaced by a dead man.
Adding insult to injury, Franco seemed a lot livelier backstage, tweeting videos and photos seemingly every time he was off camera and as engaged in his iPhone as he was totally uninterested in the audience a few feet away. Franco's constantly updated Twitter feed had seemed like a boon leading up to the awards, as he posted earnest videos about his rehearsal process and even a sneak peek at a Grease-inspired musical number that never made it into the show. The Twitter activity seemed to suggest Franco was gearing up for yet another performance that would surprise us, something as revealing as his 127 Hours job but focused around singing, dancing, and jokes. Instead we got the Franco we should have expected-- smug, rumpled, ironically detached from everything he was supposed to be celebrating.
We've spent the last year marveling at all the many jobs Franco would take, and there's been a kind of giddy excitement in being totally unable to predict what he'll do next. But seriously, why did he take this job, beyond just adding "Oscar host" as another entry in his wild career scrapbook. Whatever he thought he would bring to the proceedings seem to have been lost by the time the show started, when, as a clever Twitter friend cracked, he probably would have actually cut off his arm in order to escape. Watching him slouch his way through the Oscars has made me far less interested in what he'll be doing after this; it makes me wonder if he'll bring the same ironic air to his role in Rise of the Apes, or if his stint on Broadway next fall opposite Nicole Kidman will seem just as stifled onstage. I'm worried that whatever he brought to his phenomenal 127 Hours performance has been lost in the face of far too much success.
The best I can say for Franco is that he didn't bring Hathaway down with him-- though at times she seemed to be trying a little too hard to make up the difference, for the most part she was fresh-faced and charming, the exact kind of energetic, ready-for-anything host you need (did we learn nothing from David Letterman hosting all those years ago?) Many of the changes to the classic Oscar formula this year actually worked-- the tributes from Sandra Bullock and Jeff Bridges to the acting nominees, the montages of Best Picture nominees that opened and closed the show, even the "AutoTune the movies" segment midway through. But the one that made it all moot was Franco, an attempt to make the ceremony younger and hipper that instead dragged it all down like a teenager sulking at a wedding reception. Hathaway proved that you can be young and fun and also fit the glitzy Oscar mold; I say bring her back next year, and pair her with someone who can actually be bothered to give a shit. Zac Efron, your chance is coming.
Your Daily Blend of Entertainment News
Staff Writer at CinemaBlend