How Jesse Eisenberg's Lex Luthor Will Be Different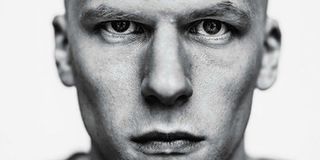 Ever since Jesse Eisenberg was cast as Lex Luthor in Batman V Superman: Dawn Of Justice, all that he's been asked about is Lex Luthor in Batman V Superman: Dawn Of Justice. But rather than being annoyed by the constant queries about his upcoming performance, Eisenberg has been able to give us an intriguing overview of his approach to playing the villain, while at the same time not really saying anything at all.
While out promoting his turn in The End Of The Tour, Eisenberg was quizzed by
[[ ah ref https://www.youtube.com/watch?v=mEmBveRSxEI ]] MTV about how he approached his portrayal of Lex Luthor. And in his own inimitable fashion, Eisenberg explained how his Lex Luthor is completely different to Gene Hackman's epic incarnation of the character from 1978's Superman.
[[ ah ref https://www.youtube.com/watch?v=mEmBveRSxEI ]]
First things first, let me just say that I am a huge fan of Jesse Eisenberg's rambling delivery. It always seems as though he is about to meander his thoughts into a cul-de-sac, but then at the last second, he comes out with something profound and informative.
It's no different here too, because not only does Jesse Eisenberg make it clear that he actually loves the character, but he also talks about how he saw the chance to play Lex Luthor as an opportunity to get his mitts on an intriguing, complex and vivacious character.
Eisenberg also made sure to wax lyrical about Batman V Superman's writer Chris Terrio, whose screenwriting skills led to him receiving the Academy Award for his work on Argo. And while Eisenberg makes sure to note that his interpretation of Luthor will be completely different to Hackman's, he also speaks with reverence about the previous performance. However the fact that neither him nor his interview mention Kevin Spacey's turn as Luthor in Superman Returns doesn't reflect well on the long forgotten attempt to rejuvenate the franchsie.
[[ ah ref https://www.youtube.com/watch?v=mEmBveRSxEI ]]
We're still waiting to get our first real look at Jesse Eisenberg's Luthor. So far, we've only been given an intense monochromatic peak at Eisenberg without hair. But that was enough to suggest that the Academy Award-nominated actor already has a great hold on the villain.
While it also suggested that Henry Cavillland Ben Affleck will have a tough time wrestling the film away from Eisenberg's potentially scene-stealing turn. We'll see who'll come out on top when Batman V Superman: Dawn Of Justice is finally released on March 25, 2016.
Your Daily Blend of Entertainment News