Jason Segel Makes A Bid For Oscar Attention With The End Of The Tour Trailer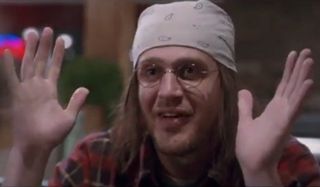 Jason Segel is seen as an actor who can light up even the dreariest comedy with his amusing, everyman shtick, and has built himself into a comedic leading man because of this talent. He's veered into dramatic territory before, but takes a full dive into the serious in the trailer for The End Of The Tour, in which he plays author David Foster Wallace. And it looks as though Segel could be in the conversation come awards season for his portrayal of the troubled novelist.
The End Of The Tour looks set to be Jason Segel's most mature and profound work to date. Yep, even more mature and profound than Sex Tape. From this brief introduction to the drama, which wowed at the Sundance Film Festival earlier this year, it's clear to see that Segel not only holds his own against his Academy Award-nominated counterpart Jesse Eisenberg (The Social Network), but they clearly bounce off of each other with aplomb, too.
The End Of The Tour is based on David Lipsky's 2010 book Although Of Course You End Up Becoming Yourself, which documented the Rolling Stone journalist's travels with writer David Foster Wallace during the final weeks of the author's promotional tour for Infinite Jest. Jesse Eisenberg will star as David Lipsky opposite Jason Segel's Wallace, while Joan Cusack and Ron Livingston also pop up in supporting roles.
But will The End Of The Tour really make Jason Segel Oscar worthy? Well, if his impressive performance in the trailer, which sees him being imposing, bashuflly arrogant, but still vulnerable, can be maintained across the entire length and breadth of The End Of The Tour then he really could be.
Also, the Academy always loves it when an actor comes from leftfield to wow them. Just look at Eddie Redmayne, Matthew McConaughey, Jean Dujardin, and Jamie Foxx, each of whom won the Best Actor gongs over the last decade or so. While they're also willing to take bigger risks in the Best Supporting category, like Heath Ledger, Christoph Waltz, and Christopher Plummer's victories for The Dark Knight, Inglorious Basterds and Django Unchained, and Beginners, respectively, shows.
It's still clearly way too early to tell though. What we should still be thankful for though is that A) The End Of The Tour reminded us all to listen to more REM immediately, and B) it looks like the perfect dramatic meshing of a respected and renowned actor (Jesse Eisenberg) taking on a nuanced and quieter role that will evoke further examples of his esteemed talent, with a comedic actor trying something new. All of this happens under the watchful eyes of a vibrant young director, James Ponsoldt (The Spectacular Now, Smashed, Off The Black), and if that can't get you excited then why the hell are on you on a film website? The End Of The Tour will be released on July 31, 2015.
Your Daily Blend of Entertainment News
Thank you for signing up to CinemaBlend. You will receive a verification email shortly.
There was a problem. Please refresh the page and try again.