How Judd Apatow Helped Make Popstar Better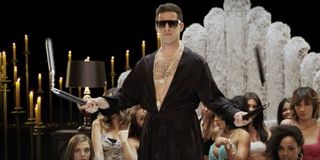 It was written in the stars that Judd Apatow would produce a film from Andy Samberg, Akiva Schaffer, and Jorma Taccone, who collectively are known as The Lonely Island. Before they even met to discuss a possible project, the trio and Apatow had separately been thinking that The Lonely Island should do a riff on the recent spate of popumentaries. So when the group pitched this to the uber-producer, he was only happy to oblige, and they've now admitted that he was more help than any of them could imagine.
I recently had the pleasure of sitting down with Akiva Schaffer, Jorma Taccone, and Andy Samberg to discuss their hilarious new comedy Popstar Never Stop Never Stopping. During our chat I quizzed the trio about the influence of Judd Apatow on the film, and they were quick to heap praise on the filmmaker.
In fact, they were so blown away by the notes and guidance that Judd Apatow offered them during production, as well as the fact that they'd individually come up with the same idea for a Lonely Island film, that Akiva Schaffer suggested that I should call the article, "A Kismet Moment: Apatow, Lonely Island." Jorma Taccone then added that I should photoshop all three members of Lonely Island, and Judd Apatow's head onto a picture of Arnold Schwarzenegger's body. Just to give it a touch of je ne sais quoi.
Unfortunately I don't possess the skills to do such magical work. Instead, all I can offer you is a short snippet from my delightful chat with Akiva Schaffer, Jorma Taccone, and Andy Samberg about Popstar Never Stop Never Stopping, which you can watch below.
What a bunch of bloody lovely lads. Those of you that have been warmed by the posse should do yourselves a favor and flock to your local cinema to watch Popstar Never Stop Never Stopping when it's released this Friday. It's a sensational watch. While if you still need a little more convincing, you can read my review for Popstar: Never Stop Never Stopping here.
Your Daily Blend of Entertainment News