How Much Of Beauty And The Beast's Singing Will Actually Be Live?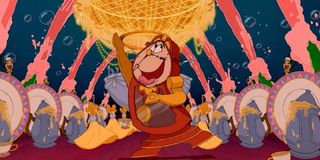 Harry Potter's Emma Watson stars as Belle in Disney's upcoming live-action remake of Beauty and the Beast, and you can bet there will be singing involved. The question is, will it be all pre-recorded tunes, or did the actors sing them live on the set. Luke Evans, who plays the Disney princess' narcissistic suitor Gaston, recently dished on his musicality during the Toronto International Film Festival.
Speaking with Collider, the actor revealed that, while the cast recorded every song, they also had the opportunity to sing on set. He said,
Luke Evans clearly preferred this method, as he continued by talking about his experience singing live on stage. He said he "never mimed" in his life, and he shared this love of live singing with Josh Gad, who plays Le Fou and is described by Evans as a "proper theater lover."
While Evans may feel right at home, Watson previously told The Telegraph that this is a new and "terrifying" challenge for her. Since the announcement of her casting in the film, she's posted on social media that she began her early singing lessons to prep for the role. Of course, Evans thinks that she's wonderful. Speaking in a different interview with MTV News, he said that Watson "epitomizes what Belle should be in the 21st century to young girls," and praised her musical talent ("great singing voice to boot.")
The film will feature classic songs taken from the animated film and the stage musical, in addition to original compositions by Alan Menken and Tim Rice.
Emma Watson, Luke Evans, and Josh Gad are joined in Beauty and the Beast by Dan Stevens as the titular curse prince; Ewan McGregor as Lumiere; Emma Thompson as Mrs. Potts; Gugu Mbatha-Raw as Plumette; Ian McKellen as Cogsworth; Stanley Tucci as Cadenza; Kevin Kline as Maurice; and Broadway star Audra McDonald as Garderobe. The film marks the latest live-action reimagining of the classic Disney movies, following the recent Cinderella remake with Lily James, Cate Blanchett, and Richard Madden, and the Sleeping Beauty re-do Maleficent. Other than Beauty and the Beast, coming down the pipeline are The Jungle Book, Mulan, The Sword in the Stone, Dumbo, Pinocchio, and more.
Beauty and the Beast is currently scheduled for release on March 17, 2017.
Your Daily Blend of Entertainment News
Thank you for signing up to CinemaBlend. You will receive a verification email shortly.
There was a problem. Please refresh the page and try again.