How Much Creative Control Ben Affleck Will Have Over The Solo Batman Movie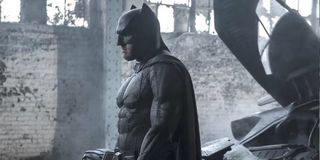 Audiences generally seem to pretty much agree on the fact that the best thing Batman v Superman: Dawn of Justice has going for it is Ben Affleck's portrayal of The Dark Knight. Nailing both Bruce Wayne as well as the Caped Crusader, the actor managed to win over even the film's harshest critics. Considering the news that Ben Affleck will soon take the reigns on the solo Batman movie, it has many people wondering how long of a leash Warner Bros. will keep him on. As it turns out, they've pretty much given him carte blanche to do as he sees fit with the film.
During a recent episode of Heroic Insider, the folks at POPBOOM revealed that Warner Bros. has relinquished complete creative control of the upcoming Batman solo movie to Ben Affleck and Geoff Johns:
So it looks like Ben Affleck will have complete control over the upcoming Batman movie. He will have DC Chief Creative Officer Geoff Johns at his right hand, but beyond that no one else will be able to tell him how to make the movie. It honestly didn't seem possible, but this news has us even more excited for the coming Batman solo movie. Ben Affleck has a strong filmmaking resume under his belt, and Geoff Johns has been Warner Bros' go-to guy for anything and everything related to DC superheroes over the last few years. It also seems to show that Zack Snyder's particular grip on the DCEU has begun to loosen somewhat, which will make many of the critics of Batman v Superman incredibly happy.
Of course, this doesn't really shed much light onto the nature of the movie itself. At this point we still don't know for certain what storyline they will choose to adapt; while many seem to think that Under the Hood is lying in wait, Ben Affleck may want to approach another storyline before heading into Jason Todd territory. If that's the case, then might I suggest The Court of Owls, Mr. Affleck?
Check out the recent episode of Heroic Insider for yourself below:
Batman is well-worn territory when it comes to silver screen superhero movies, but we have a feeling that Ben Affleck has what it takes to get this movie done right. We will keep you up to date with any and all news related to this project as it becomes available to us.
Originally from Connecticut, Conner grew up in San Diego and graduated from Chapman University in 2014. He now lives in Los Angeles working in and around the entertainment industry and can mostly be found binging horror movies and chugging coffee.
Your Daily Blend of Entertainment News
Thank you for signing up to CinemaBlend. You will receive a verification email shortly.
There was a problem. Please refresh the page and try again.