How Natalie Portman Realized People Make Fun Of Garden State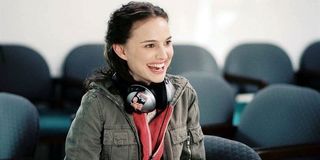 Garden State is a weird film. Upon its release all the way back in 2004 it was initially met with pretty impressive reviews, as well as a healthy box office return. But it has since been turned into a rather cult commodity. In fact, some people even turn up their noses at it. Its star Natalie Portman is now fully aware that people don't like it, and it's all because of Broad City.
Like most people with two eyes, two ears, and a sense of humor, Natalie Portman and her family love nothing more than to sit down and catch up with Abbi and Illana's latest crazy antics on the hit Comedy Central sitcom.
But it turns out there was one section of a particular episode of Broad City that left Natalie Portman reeling with embarrassment. According to Vulture, Portman made this admission at the Toronto Film Festival on Wednesday evening where she was talking about her illustrious career. After admitting that she adored working on the film, Portman then explained:
Which, is kind of upsetting to hear. Because before that point Natalie Portman only had fond memories of working on Zach Braff's debut feature film. While Braff, who wrote and directed Garden State, was using the film to take a break from his work on Scrubs, Portman decided to shoot the quirky, overly whiny, hipster indie drama while she was in her senior year at Harvard. Which I imagine made for a welcome break from all of her studying.
And immediately following Garden State's release, there was no reason for Natalie Portman to regret her decision. Not only was it immediately purchased at the 2004 Sundance Film Festival in a joint venture by Fox Searchlight Pictures and Miramax for a substantial fee, but it was met with positive reviews and even still has a 86% rating on Rotten Tomatoes. Plus, despite being made for just $2.5 million it grossed $35.8 million.
But in recent years it's become more and more unfashionable to reveal that you like Garden State. Maybe because it's attempting to be more profound and touching and revelatory than it actually is. Maybe because of its annoyingly quaint and indie-pop soundtrack. Maybe just because Zach Braff was in Scrubs. Who knows? All that's for certain is that if Natalie Portman is feeling down about Garden State then all she needs to do is take a quick look at her Best Actress Oscar to remind her that she went on to bigger and better things.
Your Daily Blend of Entertainment News
Thank you for signing up to CinemaBlend. You will receive a verification email shortly.
There was a problem. Please refresh the page and try again.